The Devil and Daniel Johnston
Dear Citizens of Greensboro,
My quest to bring
The Devil and Daniel Johnston
to the Triad has been a long, long endeavor. I have bugged many a publicity executive for Sony Pictures Classics as well as local theater owners, local film buyers, and the people who answer the phones for the Galaxy Cinema 6 in Cary, NC.
But as the film is finally released in Greensboro today at the Carolina Theatre in downtown, let's review the reasons why you should go and see it:
1.) The poster, with artwork by Daniel Johnston himself: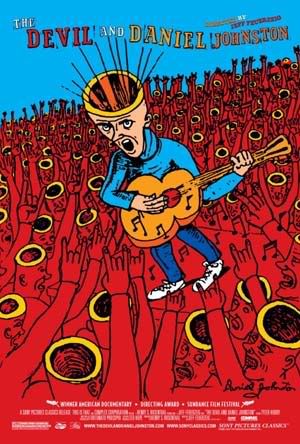 2.) The trailer for the film, one of the very best of the year:
3.)
The more than positive review I wrote for GoTriad.
4.)
And lastly, the telephone interview I conducted with Johnston himself over the telephone.
As far as I am concerned, you have no excuse not to see this film.
Sincerely,
Joe Scott
P.S. For those of you who I met before seeing the film tonight, make sure to write your thoughts on the film in the comments section below.