Marty wins! (The Oscars)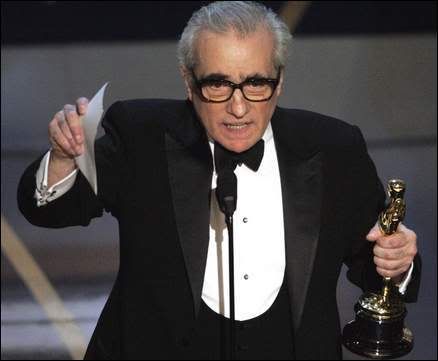 Was "The Departed" the best picture of the year? Well, it was definitely one of the films that entertained me the most this year. That's probably why I didn't guess it would win at this year's awards.
Out of the twenty categories running in our Oscar pool (we excluded all categories with the word 'short' in them, I got fifteen right, including 'upset' win Alan Arkin, who won out over favorite Eddie Murphy.
"Little Miss Sunshine", my pick for Best Motion Picture, did rather well despite losing the big race. Sunshine won two out of its four nominations, one for Arkin's performance, and the other being Best Original Screenplay.
Martin Scorsese finally got his Best Director Award in what appeared to be a film brats reunion. The belated statuette was given to Scorsese by his fellow 1970's filmmaking crew, known as 'The Film Brats', Steven Spielberg, Francis Ford Coppola, and George Lucas.
Of the four directors on stage during Scorsese's win, Lucas is the only one who has not been rewarded for his directing.
"It's better to give than receive," Lucas said, only to be jokingly interrupted by Coppola and Spielberg who shouted, "No it's not!"
"The Departed" also won for Best Adapted Screenplay and Best Editor.
Jennifer Hudson, the only nominated performer from the film "Dreamgirls" who did not appear in "Norbit", won Best Supporting Actress, giving the night's most tearful acceptance speech.
Echoing his Golden Globes win, Forrest Whitaker was at a loss for words when he won Best Actor for playing Idi Amin in "Last King of Scotland"; and fellow obvious choice Helen Mirren calmly thanked the monarchy after winning best actress for "The Queen."
The awards show itself was a rather dull affair. While Jack Nicholson was on hand to sit near the front with his sunglasses and manic smile (albeit with a shaved head), host Ellen DeGeneres's humor was merely amusing. Also drawing out the show was an extended medley of songs from 'Dreamgirls' and a series of shadow puppets which created skillful but pointless recreations of famous movie posters.
Perhaps the biggest waste of time for the evening was a clips montage dedicated to editing. If one were to use the French word for editing, it wold roughly translate to a montage dedicated to montage. Film itself is a tribute to the work of editors, so the acknowledgement for such a technical category at a time when people on the East Coast want to see who got all the awards before they hit the hay was unneeded.
With four categories to go at midnight, the time when the show should have ended, Degeneres joked that the show was over with a little time to spare. The punchline came as she got a call on her headset telling her there were four major awards left to donate, but I wasn't laughing. The show could have been over had they cut down all the best song performances to a three-minute medley, removed all of the many montage tributes but one (seriously, those things lose their 'special' quality when they play two or three of them in one night), and told those amazing puppeteers to take a hike.
Seriously, the best whistler on earth might be amazing to watch, but he or she would have no place performing in the middle of an over-bloated awards show dedicated to film. The same could be said of shadow puppeteers as well.