A quickie review of The Simpson's Movie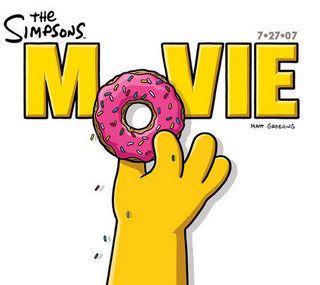 All right, let's make this quick. Why, you ask? Because there really isn't a whole lot one can say on
The Simpson's Movie
. Even the most casual of Simpsons viewers should know whether they would like
The Simpson's Movie
. It's not really better than the show, only longer - kinda like the two-part
Who Shot Monty Burns?
episodes, sans the wait between two seasons.
I guess I am thankful that
The Simpson's Movie
wasn't
worse
than the show, but in the beginning of the episo- er, film, Homer watches
The Itchy and Scratchy Movie
(was it the one that Bart was never allowed to see? - they never say), and complains about paying to watch something they could see for free on television. This is a good point, a point that the movie never really counters, except with the flash of Bart's genitalia, and Homer finally jumping Springfield Gorge.
Perhaps the biggest problem I have with
The Simpson's Movie
is that it was made long after it should have been, and that it offers fewer reveals than even the
X-Files
film did.
South Park: Bigger, Longer & Uncut
at least had the balls to show what Kenny looked like outside of his parka (we also got to hear his voice, which was provided by
Beavis and Butt-Head's
Mike Judge). At the very least, the movie could have allowed Smithers to reveal his feelings for Mr. Burns, or something.
Anyway, as far as film adaptations based on TV shows go, I guess
The Simpson's Movie
could have been much, much worse - a fact which the following trailer reminded me of:
At least the guys behind this new
Alvin and the Chipmunks Movie
got one thing right -- when Alvin swallowed an entire hunk of Theodore's shit. Such a hilarious reminder of my favorite part from the old Saturday morning cartoon! ....Hey, wait a minute!
Seriously though, Jason Lee needs to fire his agent. That Dave Seville role had David Schwimmer's name written all over it.
(
Did You Know:
The Simpson's
Nancy Cartwright (the voice of Bart) also did voice work for
The Chipmunk's Adventure
)