'Up in the Air': The film both of and about 2009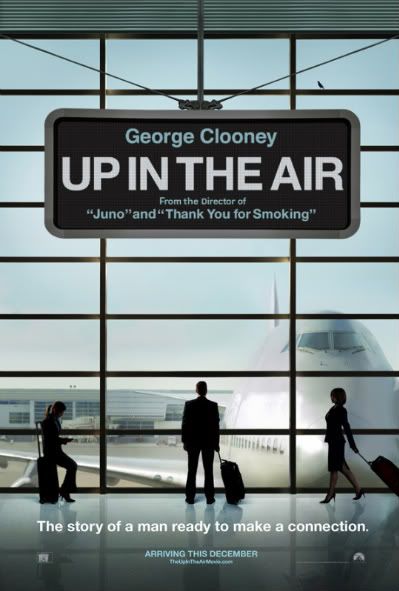 Whenever I think of America circa 1969, I will remember the film
Easy Rider
, which was made in the same year.
This might seem absurd since I wasn't born until 11 years after the fact, but the film demands a knowledge about the year it was made in order to be appreciated and understood. Strip away the historical context of an America that was undergoing a cultural revolution at the time - one which the two main characters were clearly fighting for by cycling across the country with their long hair waving in the wind like organic flags of rebellion - then
Easy Rider
becomes the movie a lot of uninformed young people see today: A couple of dudes riding motorcycles and taking drugs. And because it's no longer a big deal for men to have long hair and dodge gainful employment by engaging in various recreational activities and pharmaceuticals, a lot of people my age think the film is no big deal as well.
Forty years later, I now believe that if I ever think about our country during 2009, the one film I will remember is Jason Reitman's
Up in the Air
.
2009 was a year in which millions of Americans were laid off from their jobs. And they were most likely laid off by people like Ryan Bingham (George Clooney), a professional hatchet man that companies hire to lay off their employees because they are too cowardly – or culpable – to do it themselves. And while his job certainly puts him at odds with the freedom loving hippies in "Easy Rider," these characters share one thing in common: They find their home in a perpetual state of transience. For the "Easy Rider" characters Captain America and Billy (Peter Fonda and Dennis Hopper), their home is the road, a place where they find kinship, hope, love and ultimately death; Bingham, on the other hand, makes his home in the skies, where one could argue he finds all four of these things as well.
Where Bingham and the two Easy Riders differ is that Bingham's life is far more complex. The drama witnessed by a professional hatchet man is considerable. In the span of the film, Bingham is accused of being various types of evil; he's blamed for the possibility that an axed employee might no longer be able to afford his daughter's asthma medicine; and in one instance, a recently laid off worker threatens to commit suicide. To give viewers a real sense of what Bingham would have to endure each day, Rietman makes ingenious use of interviews with real Americans who were recently fired from their jobs.
Coping with this stress would be a challenge for anyone, but Bingham deals with it as best he can. First, by actually being great at what he does. After firing employees, Bingham recites a series of pre-prepared lines to help ease what will be a very difficult transition in these people's lives. What's more, it seems like he actually believes them. For example, the exchange between Bingham and a father of two played by J.K. Simmons actually ends with Simmons' character potentially inspired and on the verge of a new direction in his life. Second, Bingham has made a philosophy out of avoiding personal entanglements. This includes relationships with his immediate family, a fact which renders him as merely a guest at his own sister's wedding. Not missing anyone in his life allows him to travel more freely because of his job, and while his sister accuses him of being a lonely man via cellphone call, he looks around a crowded airport and says "I'm not alone, I'm surrounded!"
Bingham even created a self-help lecture out of his no-baggage philosophy, which he preaches during seminars around the country, a fact which only adds to the certainty he carries about this worldview. This certainty will later be challenged, however, by two women: Alex (Vera Farmiga), a fellow traveler who strikes up a casual sexual relationship with Bingham; and Natalie (Anna Kendrick), a young protégé at his company who has developed a way for Bingham and his co-workers to fire people from around the country via the internet. In a way, one might view both Alex and Natalie as essentially the same woman – just at two different points in her life. Alex is extremely worldly, and perhaps more like Bingham than even he is. Meanwhile the somewhat naive Natalie views life as a series of checkpoints, and will likely see the world just as Natalie does if her life stays in its current direction.
As Bingham falls for Natalie and both teaches and learns from Alex, the certainty he used to navigate his sometimes-volatile existence starts to crack. And after an episode where he helps his sisters solve a family crisis, this stone cold cynic realizes he has a softer side at a time when it might be too late. There is also a surprise in the third act that I refuse to spoil. But I will say it reinforces Rietman's knack for changing the way we view his characters in the span of a brief scene.
The death Bingham finds at the end of the film is not physical like Captain America and Billy's at the end of
Easy Rider
so much as it is a spiritual one. He keeps and achieves everything he wants in the movie's first act, but the suave certainty he used to pursue these ends is shattered. The sole remaining comfort is travel, but like Bingham's former life philosophy, this is impersonal as well. When the bikers sawed up and down the country in
Easy Rider
, it looked vast, wild and untamable. From Bingham's perspective forty years later, the same terrain is much smaller and chopped up into geometric grids.
So if new audiences today have a problem understanding
Easy Rider
, will the same happen to
Up in the Air
? If this means that like men with long hair, mass unemployment won't be an issue in 40 years, I certainly hope so.