Jim Hensen (1936-1990)
Aside from a well-stocked comic book shop on Baltimore Ave., the only reason to visit the unremarkable town of College Park, MA, is to catch a glimpse of the bronze Jim Henson statue on the campus of The University of Maryland.
Located in front of the Stamp Student Union, the statue depicts a friendly conversation between the university's most distinguished alum with his most widely-recognized creation, Kermit the Frog.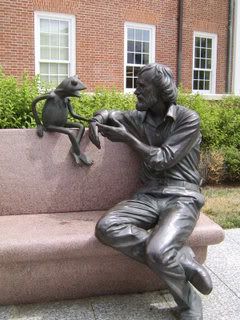 Here's a closer view. I love how this statue makes Jim and Kermit out to be the most intimate of good friends (note the way in which Kermit's hand rests on Jim's arm).
A look from Jim's point-of-view. I love the fabric like details etched onto Kermit's skin. Kermit's eye-slits are also burrowed into the bronze, rather than outlined, in order to give them depth.
And now a look from Kermit's point of view.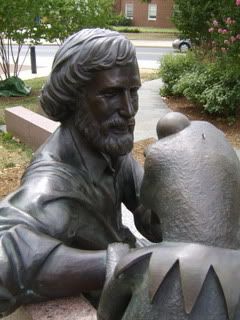 Lastly, this is yet another interesting detail from the sculpture - Henson's belt buckle has yet another Frog on it. Too cool.
I find Jim Hensen to be one of the most fascinating people who ever lived. He's easily in the top 10 of all time, world-wide. The guy lived his life making a living by doing what he loved, and in the process, made so many children -and adults- very happy. One also has to wonder how many children learned at least part of their numbers or ABC's as a direct result of watching Sesame Street?
But despite his fame and immense recognition as one of the greatest American artists who ever lived, little is known about the life of Jim Henson beyond what someone could gleam from a handful of made-for-children biographies and his entry on Wikipedia.
Perhaps the best story from Jim Henson's life that I have read was about his funeral:
Two separate memorial services were held for Henson, one in New York City at the Cathedral of St. John the Divine and in London, England at St. Paul's Cathedral. As per Henson's wishes, no one in attendance wore black, and a Dixieland jazz band finished the service by performing "When The Saints Go Marching In". Harry Belafonte sang "Turn the World Around," a song he had debuted on The Muppet Show, as each member of the audience waved, with a puppeteer's rod, an individual, brightly-colored foam butterfly.[27] Later, in what was one of the most touching moments of the service, Big Bird (performed by Carroll Spinney) walked out onto the stage and sang a quavering rendition of Kermit the Frog's signature song, "Bein' Green".[28]

In the final minutes of the two-and-a-half hour service, six of the core Muppet performers sang, in their characters' voices, a medley of Jim Henson's favorite songs, culminating in a performance of "Just One Person" that began with Richard Hunt singing alone, as Scooter. "As each verse progressed," Henson employee Chris Barry recalled, "each Muppeteer joined in with their own Muppets until the stage was filled with all the Muppet performers and their beloved characters."[28] The funeral was later described by LIFE as "an epic and almost unbearably moving event." The image of a growing number of performers singing "Just One Person" was especially powerful; it was recreated for the 1990 television special The Muppets Celebrate Jim Henson and inspired screenwriter Richard Curtis, who attended the London service, to write the growing-orchestra wedding scene of his 2003 film Love Actually.[29]
Every time I hear this story, I always come very close to crying. Anyway, I would love to learn more about this man's life. The Henson family did hire a writer to author an 'approved' biography, but apparently, they were many disputes regarding the final draft. Hmmmm.....
(This is 'Kertle' a Muppet-ized revision of the U of M Terrapin mascot)