September Dawn review.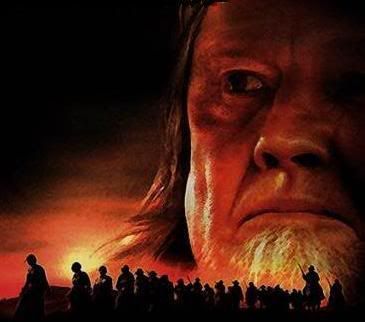 The intentions of
September Dawn
become clear within its opening scene. Wearing a haggard, fake beard, Terrance Stamp sits in a chair making a deposition. He's supposed to be portraying Brigham Young, the man responsible for establishing the Church of Jesus Christ of Latter Day Saints after the death of Joseph Smith, Jr.
During the deposition, Stamp says, "I was and am an invalid, and I have been for some time."
Dawn
focuses on the historic Mountain Meadows Massacre, wherein a group of Mormons and Native Americans slaughtered 120 innocent Protestant settlers who were en route to California. The movie is supposed to be controversial and contradictory to the way historians and Mormons believe the events happened on September 11, 1857. Curious, I tried to arrange an interview with several prominent Mormon scholars regarding the film's purported inaccuracies, but none of them had any intention of seeing the film, let alone discussing it on record.
Now that I have had the chance to see
September Dawn
, I can understand why no one would talk. The movie condemns not only those responsible for the gruesome attack, but all Mormons in general. I'd argue that even the Islamic terrorists responsible for the more recent September 11 fundamentalist attack got a fairer shake in Paul Greengrass' superior film,
United 93
. One has to wonder, since comic book movies are so popular these days, if "September Dawn" was based on an old anti-Mormon tract by God-sploitation legend, Jack Chick.
As the Protestant settlers arrive in the Utah Territories, it's clear that their wagons are pulled by higher horses of the moral variety than the LDS locals. The white-hatted Protestants – or 'Gentiles' as the Mormons call them – always smile and sing Jesus songs in their free time while the Mormons leer and growl prayers of condemnation. The Protestants are portrayed as being permissive of women's freedoms (HA!) while the Mormons curse and perhaps drown one of the female Protestants for having the poor fortune of wearing pants and a cowboy hat on their terrain. Heck, even the actual horses the Protestants lead in their wagon train are better than those of the Mormons; the reason being that the goodly Protestant settlers intend to run a horse-betting racket when they settle in California. Of course even this detail is smoothed over in the Protestants' favor.
Protestant elder Captain Fancher (Shaun Johnston) justifies the horse-racing, saying that he hopes to "give those miners something to do besides drinking and whoring."
How charitable.
The closest
September Dawn
comes to humanizing the Mormons, or at least explaining their actions, would have to be the scene in which Joseph Smith, Jr. is assassinated by an angry mob in Missouri. Bishop Samuelson (Jon Voit, wearing another fake beard – notice a trend?) learns that some of the settlers also came from Missouri, and hears word that they may have bragged about killing Smith and owning the gun that did him in.
During a carriage ride home, Samuelson has a flashback to the day when his beloved prophet was murdered before his eyes. Strangely enough, Smith is played by Dean Cain, writer-director Chris Cain's adopted son, as well as the guy who played Superman in
Lois and Clark: The New Adventures of Superman
. At first I wondered if maybe the filmmakers were attempting a sociological comment on the relationship between martyred prophets and those who benefit from the organization of the martyr's beliefs posthumously; the reason being that Terrance Stamp, who plays Brigham Young, also played General Zod, the main villain in
Superman II
. But alas, I doubt that anyone involved with the creation of
September Dawn
is capable of something that cerebral.
When
September Dawn
chooses not to devote its time towards the sinister depiction of Mormons, it's water-logged with many Hallmark western romance clichés. Chris Cain attempts to pull off a weak Romeo and Juliet story between settler Emily Hudson (Tamara Hope), and Jonathan Samuelson, one of the Bishop's many sons. Jonathan is played by the relatively new actor Trent Ford, the love child of Josh Hartnett and Brad Pitt – if such a thing were possible. To Ford's credit, he's actually just a few acting lessons shy of being a decent performer, and his character would have been likable had it not been constantly exploited as a story device to ruthlessly broadcast several of the private, and seemingly unorthodox, rituals and practices of his family's belief system.
The character of Emily Hudson is doubly absurd. During the siege when Ms. Hudson's fellow settlers are getting blown away left and right by Mormons dressed as Native Americans, she has the audacity to ask her Methodist pastor (Daniel Libman) if he will officiate hers and Jonathan's wedding. The pastor says he would be honored to marry them off while smiling like the kind of believer who would knowingly drink poisoned Kool-Aid. While I'm no expert on Methodist pastors, I have to wonder why the minister didn't have the good sense to say, 'I know you kids love each other and all, but now's really not the time!'
Judging by the three other people who were in attendance during the first Friday night screening, I'm certain this movie will soon be forgotten, if not suitable fare for people who watch bad movies for the joy of laughing at them. However, I can't help but be curious as to how "September Dawn" will affect the inevitable sequel to
Napoleon Dynamite
. Brilliant character actor Jon Gries, who played one of the dastardly Mormons in the film, also played the hilarious Uncle Rico in
Dynamite
, a film created by Mormon director Jared Hess and actor John Heder. Could this mean that Uncle Rico will be omitted – or worse, recast – for
Napoleon Dynamite 2: Socially Inept Boogaloo
? Let's just hope that Hess and Heder have something for Gries' role in this film that director Chris Cain didn't have in regards to an age-old massacre – human forgiveness.