[WES-Fest '07] Anderson: Criterion Bottle Rocket DVD on the way.
(For every day leading up to the Greensboro release of 'The Darjeeling Limited' this Friday, themovieshow.org will present an article dedicated in some way to the talented auteur, the music of his films, and the influence he has had on filmmaking in general)
AICN ran a piece on a rather interesting
Q&A
that Anderson and long-time collaborator Jason Schwartzman did for about 50 fans after a screening in Chicago. The filmmaker gave several lenghty responses, sometimes on personal topics such as how
The Darjeeling Limited
has affected his relationship with his own two brothers in real life. However, my favorite was the following announcement regarding the upcoming
Bottle Rocket
DVD, courtesy of The Criterion Collection:
Question:I heard that BOTTLE ROCKET was coming out as a Criterion DVD.

Wes Anderson: We just have to do a lot of work to prepare it, but that's in the works. I was supposed to do a bunch of stuff already that I didn't do yet, so I'm going to get on it though. But some of the stuff is at my mother's house in Texas, so I have to go to Texas and dig through all my boxes, because there's materials for the movies that I haven't looked at in a long, long time. And we want to try and include everything that might be good.
After that response, AICN's Capone, who moderated the event, dropped the following note:
Just before the Q&A, Wes and I talked in more detail about his plans for this release, which included a great deal of deleted scenes, some of which he way try to incorporate into the film, with the rest being standard deleted scenes extras. Of course the original BOTTLE ROCKET short would be on the set, but Wes added that he's also got outtakes from that as well that he wants to find.
All's I got to say about this is, 'It's about 'effing time!' For too long has my Wes Anderson DVD collection suffered from the 'Criterion Gap' created by the bare bones disc Sony created for
Bottle Rocket
. Sure, the movie made no money in theaters, but that doesn't mean it deserved crappy features like these:
Admittedly, the video quality on the transfer is nice, especially for a non-anamorphic presentation, but the disc doesn't even have a trailer, not to mention commentary, deleted scenes, etc. And
Bottle Rocket
was
Martin Scorsese's 7th favorite movie of the last decade
, for Pete's sake! I could vent for hours on this subject, because, like Scorsese, I feel
Bottle Rocket
is one of the greatest American films ever made. Not only did it introduce us to the talents of Wes Anderson and the brothers Wilson, but I think this is the film that best captures the internal "'What Now' stuggle that most Americans grapple with in their mid-20's. When I watch Anthony and Dignan fight to maintain their relationship as they hustle to make things happen, I can't up but to think that this is the way my own life is right now.
At any rate, the Criterion DVD looks to be a winner. I hope that the disc will have a 'branching' feature so that we can watch it both with and without the added scenes. The chance to peep a decent transfer of the short film version of
Bottle Rocket
that Anderson and Owen Wilson made during college sounds nice, too.
The version of the short I found on YouTube
is very pixelated with poor sound, making it nigh unwatchable.
But more than anything, I cannot wait to see the hand-painted cover by Eric Chase Anderson (Wes' brother).
Here are the previous covers that Eric Chase Anderson did:
Rushmore Criterion #65, 2000.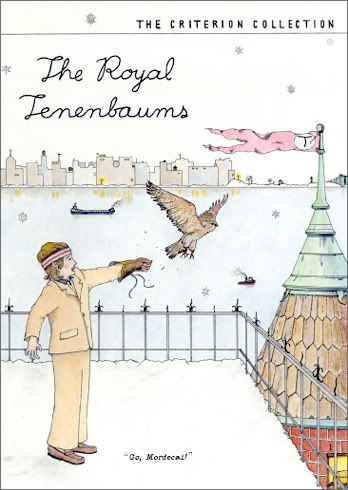 The Royal Tenenbaums Criterion #157, 2002
The Life Aquatic Criterion #300, 2005
And before we go, here's a full-screen video cap of the trailer for
Bottle Rocket
, which features several 'lost scenes' that might make their way onto the upcoming DVD: