Heath Ledger (1979-2008)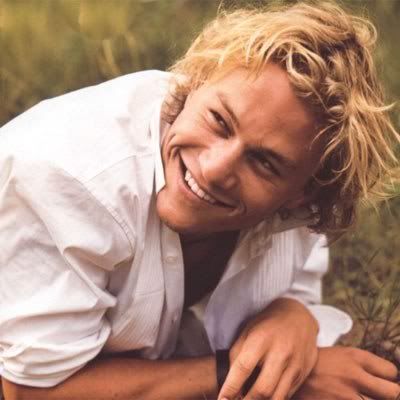 Hollywood lost a great one today. Heath Ledger is dead. I found out via a text message from Mike while buying books for my after school program at Barnes & Noble.
Ledger was survived by actress Michelle Williams and their daughter Mathilda. Word has it Williams is currently in Sundance promoting
Incendiary
, a UK drama wherein she plays a woman whose husband gets killed. The irony of it all is almost sickening.
I couldn't believe it at first -- Heath had became such a valuable card in the deck of young actors working today. And he was one of the very few artists out there who proved my initial reactions of their work wasn't always correct. I didn't like
10 Things I Hate About You
, and wrote Ledger off as a 'British pretty boy who acts like a tough guy rebel.' A young fan of his at the time even wrote my first piece of hate mail in order to defend the fledgling actor and point out that he is in fact Australian.
Thankfully, Ledger moved on to do greater things. He parlayed his career of playing pretty boys in light fluff into some challenging territory. My first clue of what Ledger would be capable of was his role as Billy Bob Thorton's son in
Monster's Ball
. Then he flirted with the potential to become the Val Kilmer of his time with
Lords of Dogtown
and knocked a grand slam in
Brokeback Mountain
. That role in particular was infused with deep sadness and anger. All the homophobes out there who crack jokes about that film would probably be silenced if they actually just watched it. That's how good he was in that film.
Waiting in the wings is the actor's turn as the Joker in
The Dark Knight
, the film some people are invariably going to blame for killing Ledger should his death be linked to drugs or alcohol. It took major cajones to play a role made iconic by Jack Nicholson, and gauging from what we saw in the trailer and IMAX short film, it looks as if he might have knocked his last film out of the park. I had said many times the look of the Joker in
The Dark Knight
reminded me of Brandon Lee's character in
The Crow
. Funny how that works out, right?
Obviously, this is going to affect several projects, including new films for both Terrance Malick and Terry Gilliam, but I won't go into details right now. It's simply not the time.