'Watchmen' case has been settled.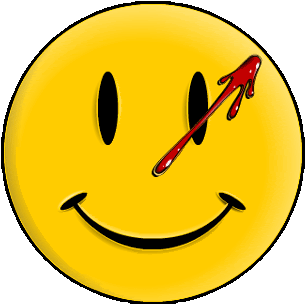 From
THR.com
:
Geeks can rejoice.

Warner Bros. and Fox have resolved their dispute over "Watchmen," with the studios scheduled to present a settlement to Judge Gary Feess this morning and request that the case be dismissed.

Terms of the agreement were not disclosed, but the deal is said to involve a sizable cash payment to Fox and a percentage of the film's boxoffice grosses; Fox will not be a co-distributor on the film, nor will it co-own the "Watchmen" property, but it will share in revenue derived from it. The studios released a joint statement last night.
You can read the rest of the article
here
, but the part that really gets my goat is the little zinger from the very end:
But with the dispute settled, the statement took a positive tone: "Warner Bros. and Fox, like all 'Watchmen' fans, look forward with great anticipation to this film's March 6 release in theaters."
Look at Fox, the greedy little monkey with thumbs, pretending that because it wears clothes and has an insatiable taste for money at cost of ethics, creative freedom, and even it's own longevity as it continues to
piss
away
all
future
potential
franchise
earnings
, it's somehow just like all of us "fans." No Fox, this is not true. You are definitely not one of us, and because of the way they are treating the rest of their DC Superhero properties, I'm honestly not too sure that Warner Bros. is one of us either. They're just the one I am betting on in this race right now because
The Dark Knight
was a very good movie, and yes, unlike you,
they had the courage to let someone make a film based on Watchmen
.
The fact that you will continue earning revenue off the film of a property you had zero faith would work, especially after the "substantial" payment Warner Bros. will be giving you up front, is extremely lame. Add that with the shoddy way Fox studio head Tom Rothman treated director Gavin Hood on the set of
X-Men Origins: Wolverine
, and the company has pretty much made its way to the very top of my crap list. Why even today, they are saying that the current cut of
Wolverine
is so terrible, that
Fox is letting Gavin Hood go back for "extensive" re-shoots
.
If that doesn't spell out that the studio is in need of a serious regime change, nothing will. And until Rothman's head is on a proverbial pikestaff along Fox's studio gates, so long as a genre movie runs a 20th Century Fox logo at the beginning of it, I won't be seeing it. What if that means no James Cameron's
Avatar
in '09? That's cool with me. What about
X-Men Origins: Wolverine
? Hey, even better.
I mean look at this trailer: