Presenting 'MIDNIGHT MADNESS: BEER AND A BAD MOVIE'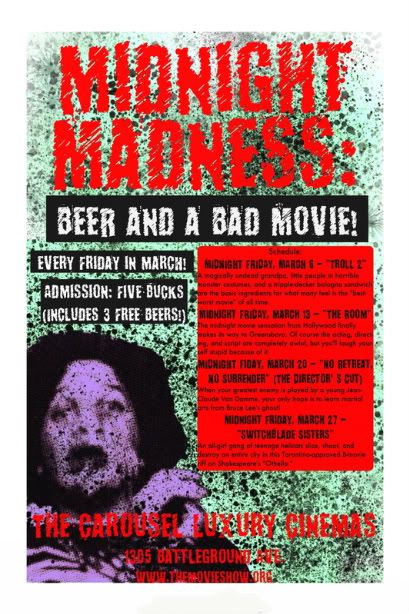 Get ready to shout, laugh, riff, and howl at the movie screen!
Every Friday night in March, join us at the Carousel Luxury Cinemas for MIDNIGHT MADNESS: BEER AND A BAD MOVIE!, a month-long film series dedicated to movies that are so bad, they become good again. We've got everything from no budget horror and drama, all-girl gangs, and yes, Jean-Claude Van Damme.
Tickets are just five bucks each. However, the best part is that with each ticket, you will also get THREE FREE BEERS! (or popcorn and soda for those under 21)!
All hecklers and MST3K wannabes are welcome. There will also be drinking games during the screenings as well as zany retro trailers, contests, and odd prizes for those who attend.
FILM SCHEDULE:
MIDNIGHT FRIDAY, MARCH 6 - Troll 2
A magically undead grandpa, little people in horrible monster costumes, and a triple-decker bologna sandwich provide the basic ingredients for what many feel is the "best-worst movie" of all time.
MIDNIGHT FRIDAY, MARCH 13 - The Room
The midnight movie sensation from Hollywood finally makes its way to Greensboro. Of course the acting, directing, and script are completely awful, but you'll laugh yourself stupid because of it.
MIDNIGHT FRIDAY, MARCH 20 - No Retreat, No Surrender (The Director's Cut)
When your greatest enemy is played by a young Jean-Claude Van Damme, your only hope is to learn martial arts from Bruce Lee's ghost!
MIDNIGHT FRIDAY, MARCH 27 - Switchblade Sisters
An all-girl gang of teenage hellcats slice, shoot, and destroy an entire city in this Tarantino-approved B-movie riff on Shakespeare's "Othello."