A provoking essay on 'Fast Times at Ridgemont High'
Mixed Tape volunteer Alicia Sowisdral wrote such a thoughtful essay for the issue of
CineZine
we'll be handing out at tonight's screening of
Fast Times at Ridgemont High
at 7:30 and 9:30 p.m., that I thought I would share it with all of you online.
Enjoy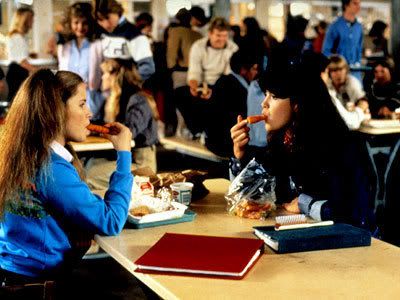 Not Your Average High School Sex Comedy
By Alicia Sowisdral
It wasn't until 10 years after its original release that I first saw
Fast Times at Ridgemont High
. I was twelve years old in my neighbor's basement as I sat with my friends, the group of us enthralled by what was happening on the screen. It wouldn't be until years later – after viewing countless films where women's libidos are irrelevant, and their sexuality defined only in response to that of the male characters – that I would realize how powerful the images in this film are. I am thinking specifically of the inclusion of female sexuality and the candid, hilarious way characters participate in this.
In seventh grade it was as simple as mocking Phoebe Cates's lunchroom tutorial, innocently handling carrots as if we knew something about male anatomy. But it was the image of Jennifer Jason Leigh, lying exposed on the couch post-intercourse that has remained embedded in my mind. Stacy's unglamorous, and practically unemotional, sexual encounters transcend the typical teen romp. They offer instead a real and raw interpretation of teen sexuality.
But the most fascinating aspect of this "reality" is the decision by director Amy Heckerling and screenwriter Cameron Crowe to include a character that chooses to have an abortion.
I am so tired of seeing pregnancy in films and television saving the day and making everything as it should be, giving female characters a sense of purpose. Leaving abortion to be dealt with the way it often is by the media – a life-altering, guilt-inducing decision that women should be ashamed of – most filmmakers play it "safe," tiptoeing around an issue that is highly relevant in women's lives. And for fear of making a (gasp) controversial political statement, instead audiences are reminded, however subversively, that giving birth is the right thing to do. Motherhood is, after all, the primary role of women.
Unexpected pregnancy is frequent on film (
Juno
,
Nine Months
,
Parenthood
), but the possibility of having an abortion is presented less as a viable option and more as something to choose against. In the rare cases where it is included, it is highly shameful and unsafe (
Dirty Dancing
,
If These Walls Could Talk
), and the woman is irrevocably "changed" (read: depressed or dead). The beauty of
Fast Times
is that it leaves the shame out of sex and sexual related choices.
Perhaps it is the way Stacy becomes impregnated, a quick one-two thrust from an older guy in her parents' pool house, that makes her choice to have an abortion easier for the audience to deal with. I mean, honestly, would you have had Damone's baby? Heckerling and Crowe, working for first time in both of their given roles, should be commended not only for including abortion but for doing so in a way that many women experience it – an uncomfortable reality, yet a smart choice. For the freedom of filmmaking, the pride of women and the validity of a movement, this was and remains a revolutionary act.
Alicia earned a master's degree in Women's and Gender Studies at UNCG, and has written for several publications including GoTriad and Yes! Weekly
--
I have to agree with Alicia that
Fast Times at Ridgemont High
really is the only mainstream high school sex comedy that treats women like actual characters. In so many movies like
Porky's
and
American Pie
, they're nothing more than air-headed targets - or worse, receptacles - for the desires of the male characters.
The other day, my wife and I were watching this ridiculous T & 80's high school film called
My Tutor
, wherein a group of women do aerobics for nearly three minutes. Who were these women? The movie never really says because none of them are actual characters in the story. My guess is that they were just there to do aerobics.
Yes,
Fast Times at Ridgemont High
has plenty of jokes, some rather hilarious ones. Then on top of that, it actually addresses sexuality with some degree of seriousness. Sex is not always a punchline involving bodily fluids or pastries. And even if you don't personally believe in abortion, you have to respect the film for not blinding itself to the fact that it's out there and it's happening.