This Friday is 'Dress like a Zombie Day'
As most of you probably know,
we'll be hosting a special midnight screening of Lucio Fulci's seminal horror classic Zombie at the Carousel Luxury Cinemas on 1305 Battleground Ave.
In honor of this, we thought it would be cool to host a special promotion called "DRESS LIKE A ZOMBIE DAY"

(ZOMBIES!)
How does it work? Basically you just dress up like a member of the walking dead and show up at the Carousel on Friday night before the movie. If you know your zombies, this isn't too hard. All you need is a bit of fake blood, torn clothes, white makeup or an avacado mud mask of some sort.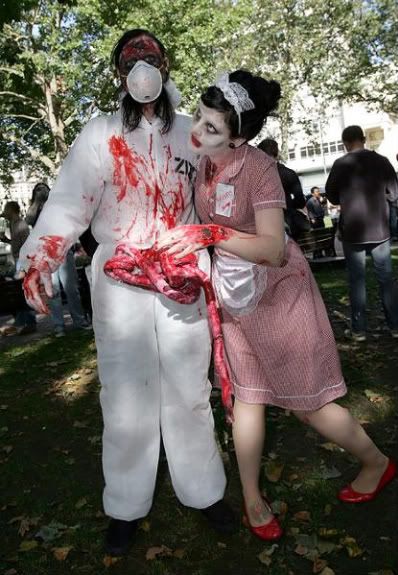 (Zombie couples are welcome)
The first ten Zombies to amble up to the theater will win a prize. We might also have a couple of other contests that night as well.

('Sexy' zombies are welcome, too)
So remember when you're getting ready to see
Zombie
this Friday, don't just see the movie, live it!