Bill Murray: 'McG deserves to die.'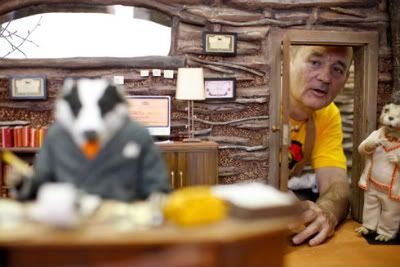 During
an interview with Times Online
to promote
Fantastic Mr. Fox
, Bill Murray dropped the kind of bomb most celebrities can't say these days because of publicists and star-wranglers.
Writer Kevin Maher asked him about a statement his
Charlie's Angels
director Joseph McGinty Nichol - or McG - had made wherein the filmmaker claimed the actor headbutted him during a creative dispute on-set.
Murray's response? Epic.
"That's bulls***! That's complete crap!" says Murray, flushing slightly yet maintaining composure. "I don't know why he made that story up. He has a very active imagination." He pauses. The subject seems closed, but then a minor eruption. "No! He deserves to die," he says, coldly staring, without breaking deadpan. "He should be pierced with a lance, not headbutted."
You can read the rest of the story
here
.
No wonder Murray was replaced by Bernie Mac in
Charlie's Angels 2: Full Throttle
.
P.S. Have you seen the new 'Critics Say' trailer for
Fantastic Mr. Fox
? If not, check it out.