Symalan too busy to write or direct his own stories.
While I feel that M. Night Shyamalan's
The Village
was one of the most unfortunately maligned films of all time, the dude's career has definitely taken a tumble with
Lady in the Water
(a film Mike enjoyed, btw) and
The Happening
.
So with that in mind, I am not sure how to react to
Empire's story
on "The Night Chronicles," a film project wherein different teams of writers and directors take on stories concieved by Shyamalan, who is currently busy turning a Nikelodeon kids' series into a live-action film. There's supposed to be three films in three years, the first of which,
Devil
, will be directed by
Quarantine
's Drew and John Erick Dowdle and written by
30 Days of Night
scribe Brian Nelson.
Chris Messina will play the lead.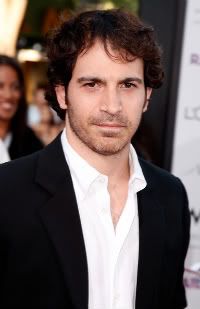 (Messina)
Empire suggests that Shyamalan could be attempting to turn his name into a franchise the way that Hitchcock did with his beloved TV series years ago. Could be true, but definitely not deserved as of late.
I've always felt that Shyamalan is a better director than a writer, even though he has created some compelling characters and decent scripts in the past. But the worst elements of his more recent and very terrible films has always been his stories. Now he's planning to take these stories, which are getting progressively worse with each film, and hand them off to not-so competent directors and writers?
I'm not sure this is going to work.
My advice to Shyamalan is this: Try to direct someone else's story. Stories have been the weakest parts of his more recent films, and who knows, maybe he'll actually get better at telling his own stories again after spending two years planning, lensing, and editing someone else's. Film is a collaborative art, and not everyone must be the great auteur. At least not all the time.
One could argue that that's what he's doing with
The Last Airbender
, but don't even get me started on that one.
P.S. Messina was pretty awesome as 'Mr. Syrup' in
Away We Go
.