Transformers that can't possibly Transform?
While the original
Transformers
cartoon featured toy robots that were quote, ((makes cheesy robot voice)
"more than meets the eye,"
the upcoming film based on the same cartoon may feature robots that are more than what could possibly be transformed - in toy form that is.
Aint-it-cool-news released a full on photo spread of Optimus Prime this week: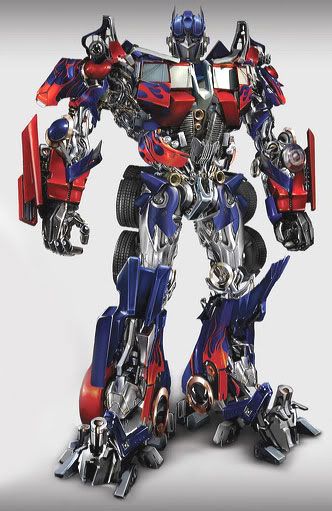 While I have no problem with the design of Prime's face, the rest of his body is simply over-articulated. Seriously, did someone hand all of the cartoons and toys to the art direction team and say, 'Here, go pig-shit on this wild baby!'
Aint-it-cool writer Merrick raises another legitimate gripe.
He writes:

Also, I'm having a bit of trouble understanding how toys with such awkward skeletal frameworks will actually be able to transform. I mean, a kid could sever fingers trying to shove all of these protrusions back under the hood of a semi. 'Twould be a strange irony indeed if a movie based on toys called "Transformers" was supported by a toy line that didn't transform."

Great point. And before someone goes off saying, "Well, there's obviously no way the design of the cartoon and toy series could work in an actual live action film," I want to cut him or her off by saying, WRONG! Several indie filmmakers have already made faithful - yet fairly decent - live action Transformer sequences with little to no money:
This dancing robot clip was made by Neil Blomkamp, who will be directing the upcoming Halo movie. (Maybe they should have hired him to direct
Transformers
)
Here is a fake trailer some fanboys made that already looks like a decent film in its own right. I really dug the evil copy machine from Japan. (A special kudos is due for the use of the Transformers animated movie theme by defunct hair metal band Lion)
This one features a robot very similar to Optimus Prime. While made by amateurs, it looks less retarded than the one we are going to get in theaters.
Here's a preview someone made for the Sci-Fi Channel.
So as you can see, making the live-action Transformers loyal to its toy and animated roots would not only be easy for Michael Bay to do, but it's already been done by countless other people for way less money than Bay will be getting for his film. So why is Bay supporting all these changes?
In an online interview, Bay said he wanted to humanize these robotic characters so that they could emote. When I read this line, I remember thinking to myself, 'Uh, I thought you were Michael Bay?' Seriously, this guy can't even humanize humans - he's too distracted by cars, airplanes, and big explosions. This is why I thought he would have been perfect for the project from the get-go. I believed Michael Bay's entire career up to this has been leading up to a point where he could push his human characters (or lack thereof) aside in lieu of talking cars and machines. I guess I could be wrong....