Hung like Dirk Diggler?
That's the joke AICN
made
of Batman anyway. Here's a tourist photo they posted from
The Dark Knight
: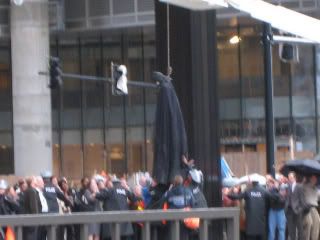 Before you accuse me of spoiling the ending, let me just say that I hope I didn't. I hope they do not end this film with the lynching of Batman. That would be a HORRIBLE place to end the film, so if that's the case, and I DID in fact spoil the ending, then so be it. A crappy ending like that deserves to be spoiled.
I don't think this is supposed to be the ending, though. Judging from all the pictures I have witnessed thus far, the Joker seems to be planting a lot of fake Batmen in order to frame Bats for a bunch of stuff he didn't do (i.e. assassinations, suicide, etc.). Hmmm. Sounds kinda like the plot for Burton's
Batman Returns
. At any rate, I am excited to see how it pans out.