Joel and Ethan Coen chat with Cormac McCarthy.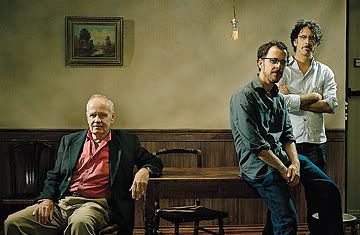 As the intro for
this article
will tell you, at 74, writer Cormac McCarthy (
The Road
,
No Country For Old Men
) has only done three interviews in his entire life. Three. I guess in the end he really didn't need to do any more; he mainly let his writing talk for him, selling lots of books and winning lots of awards in the process.
When
Time Magazine
tried to set up a fourth interview with Cormac McCarthy to promote the film release of
No Country for Old Men
, the reclusive novelist probably said, 'No.' However, he did consent to having a conversation with
No Country
's directors Joel and Ethan Cohen in a New York hotel room while journalist Lev Grossman documented their discussion. Let it be said that the Cohen Brothers don't do a whole lot of press interviews either.
So what did the trio talk about? Well, movies mostly, as well as Spanish magical realism and director Terry Malick. Here's my favorite clip:
C.M. Days of Heaven is an awfully good movie.

J.C. Yeah. Well, he is great, Terry Malick. Really interesting.

C.M. It's so strange; I never knew what happened to him. I saw Richard Gere in New Orleans one time, and I said, "What ever happened to Terry Malick?" And he said, "Everybody asks me that." He said, "I have no idea." But later on I met Terry. And he just--he just decided that he didn't want to live that life. Or so he told me. He just didn't want to live the life. It wasn't that he didn't like the films. It's just, if you could do it without living in Hollywood ...

J.C. One of the great American moviemakers.

C.M. But Miller's Crossing is in that category. I don't want to embarrass you, but that's just a very, very fine movie.

J.C. Eh, it's just a damn rip-off.

C.M. No, I didn't say it wasn't a rip-off. I understand it's a rip-off. I'm just saying it's good. [Everybody laughs.]
--
In the unlikely event that Cormac McCarthy ever praised anything that I created, I would probably call it a rip-off, too. You can read the rest of the article
here
.