Round-up of movie posters.
Just in time for Christmas, looks like studios are filling up the lobbies of their movie theaters with posters of next year's would-be blockbusters.
I got three of them for you:
The Dark Knight
Man, that looks awesome. Using the
Batman Begins
symbol to represent Heath-Joker's scarred smile. Color me excited, though, I hope this doesn't mean I'm getting set-up for another
Spider-Man 3
.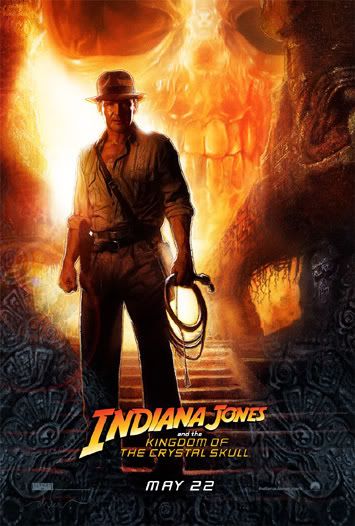 In poster form, Indy doesn't seem to be aging whatsoever. Too bad we can't say the same for Harrison Ford. Last Friday, my wife asked me why I don't seem to be excited about Indy IV whatsoever. I told her it was because the original three films are nearly iconic in my memory, as if each scene was etched in stone. The fact that they are yoking three of the best adventure films of all time with a needless sequel starring Shia Labeouf of all people can only make me more and more jaded as the release date approaches.
On the other hand, this next poster has made me *VERY* excited....
What a delirious construction of basic arts and craft supplies. Granted that the movie doesn't suck, I plan on buying this poster for
Be Kind Rewind
as soon as it's available.