Wolverine vs. King Leonidas?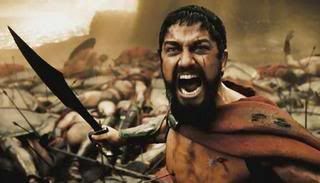 (Gerard Butler doing what he does best - screaming with an arrow in his chest!)
This story came out a tad bit late for last Thursday's edition of Comic Book Corner, but
Chud
reports that
300
star Gerard Butler might pit his chiseled abs against Hugh Jackman's adamantium claws in
X-Men Origins: Wolverine
. According to writer Devin Faraci, Butler is in talks to play none other than Sabertooth.

(Gerard Butler's abs, a.k.a. 'The Money-Makers' or 'The Reason I Hate Going to the Swimming Pool')
Is it true? Could be, especially since both the
Escape from New York
remake and
The Untouchables
prequel that Butler was attached to star in this coming year have stalled out. He would definitely be a much better choice for the role than Tyler Mane, who played Sabertooth in
X-Men
. Dude's a pro-wrestler, not an actor. What's worse is that Mane looks like a white Klingon on steroids even without the horrible make-up they gave him for the part.
Co-host Mike would call this an act of 'ret-con,' a comic book term referring to the changing of continuity after the fact. Comic Book writers use this all too often whenever the creators before them have painted iconic characters like Spider-Man, Superman, Batman Et. al into a corner.
If Butler does indeed take over the part for Mane, it won't be the first time an X-Men character was ret-conned in the movies. You may remember that Dr. Hank "Beast" McCoy was played by Canadian actor Steve Bacic during a small cameo in
X2
, only to be replaced by a blue fur-covered Kelsey Grammer in
X3
.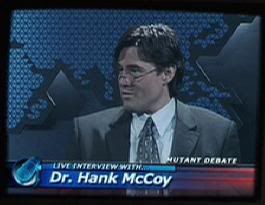 (Steve Bacic)



(The Cookie Monster)
I wonder why they didn't pull a George Lucas and simply re-shoot the
X2
cameo with Grammer for the DVD?