"The Big Lebowski" @ 7:30 & 9:30 on Wednesday, September 3rd.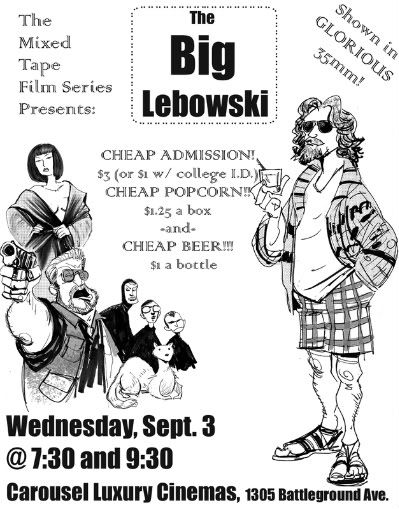 On Wednesday, September 3, you better dust off your bowling shoes because WUAG 103.1 FM and The Carousel Luxury Cinemas will be presenting "The Big Lebowski" at 7:30 and 9:30 p.m. Best part is while the film will be projected in 35mm, you won't have to pay a whole lot to attend. Admission is $3, or $1 if you have a current college i.d. Plus we'll be offering $1.25 boxes of popcorn, $1 sodas, and for audiences 21 & up, $1 beers.
So come on out to the Carousel Cinemas on 1305 Battleground Avenue. The movie is great, the admission is cheap, and we'll be throwing a few contests before both screenings as well.
And if you would like to do us a favor and keep the admission cheap on future Mixed Tape events, make sure to invite a bunch of friends to come along with you should you decide to attend. I couldn't think of a better way to spend time with my buddies than to sit in a movie theater while sharing a bucket of beers.
--
P.S. If you frequent a resturaunt, coffee shop, or bar where they let people post flyers of community events, print
this one
out and hang it up. If you hang up a flyer for the screening, and snap a digital photo of yourself doing so, your first drink is on me.