The Mixed Tape Film Series: Update!
As many of you know, in the next couple of weeks here, Mike and I have no less than two events that are part of the Mixed Tape Film Series.
Here's the first one:
Scary Movie Double Feature
Friday the 13th Part III in 3-D
-and-
The Monster Squad
The Mixed Tape Film Series continues to roll ahead with this special grindhouse-styled presentation which kicks off with the 1980's horror cult classic
Monster Squad
. Best described as
The Goonies
meets the classic monsters of yesteryear, this nard-kicking monster mash-up created a storm in the bootleg DVD circuit until it's official release last summer.
Here's the trailer.
Then after the
Squad
, we'll be kicking things up into the third dimension with
Friday the 13th Part III in 3-D
. Watch Jason wear a hockey mask for the first time as he slashes his way through a bevy of lusty camp counselors in literally eye-popping 3-D.
Here's the Trailer.
Admission for this special one-time only event is $6. 3-D glasses will be provided, and as always, the beer is $1 a bottle.
Also note that the people who wear the best Halloween costumes will win awesome prizes like free movie tickets, pizza, CD's, T-shirts, and more.
A lot of people are excited about this event. Matter of fact, we are dangerously close to selling out. Do not be that guy or girl who spends hours - or even minutes - whipping up a costume only to show up to the theater on Thursday night and be turned away.
You can pre-order your tickets
here
.
After that: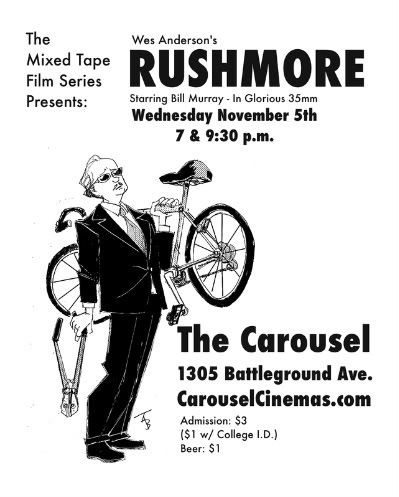 Wes Anderson Night
Rushmore
In the fall of 1998, filmmaker Wes Anderson released his second feature film
Rushmore
. Not only was the film a well-written comedy about extracurricular activities and unrequited love, but it also featured the greatest soundtrack of licensed music and reinvented Bill Murray's floundering career. This film created the template for the quirky/somber indie comedy for our generation, and without it, there would be no
Garden State
, no
Napoleon Dynamite
, no
Juno
, and no
Nick and Norah
.
Ten years later, The Mixed Tape Film Series will be giving fans who missed their chance the first go around to watch this contemporary classic in 35 mm on the big screen.
Here's the trailer.
As always, beer, slices of pizza, cookies, and soda will be on sale for $1 each.
The movie will run at 7 p.m. and 9:30 p.m. on Wednesday, November 5