The new trailer for Oliver Stone's W looks utterly fantastic.
But don't take my word for it. See for yourself!
W.
After three different cuts of
Alexander
left me scrambling for a bottle of Tums, plus the fact that
World Trade Center
was a pointlessly over-budgeted TV movie of the week, there was a time when I thought I was done with Oliver Stone. Sure,
JFK
is one of my all-time favorite movies. Yes
Salvador
,
Wall Street
,
Born on the Fourth of July
, and
Nixon
were excellent films as well. But the one-two combo of Stone's last two films was enough to make me consider turning my back on the director for good.
I am glad I held onto hope, however, because it looks as though Stone might have done the impossible -- he's taken a man who may very well be the most despised man on Earth, and while he's not shying away from Bush's shortcomings as our president, it looks like Stone is trying to identify with Bush, figure out what makes him tick, and even portray him in a manner that almost appears sympathetic in a way. Way more credit that I would have given the president.
Bush isn't the dumbest man on Earth, but at least 70% of all Americans (regardless of how they voted in 2004) agree that the man is in way over his head, and had no business being our leader. That said, I'd imagine that if Bush never had an inkling to get involved with politics, he might have been a cool dude to hang out with. Especially now that he's drinking again.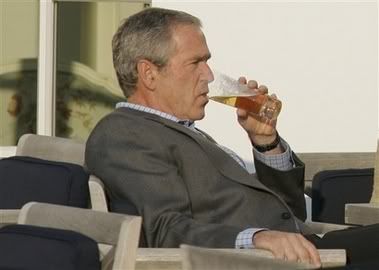 Didn't he quit doing that out of his love for Jesus and his wife? Sad.