Karma's a bitch: 'Wolverine' leaked to the nets a month before release.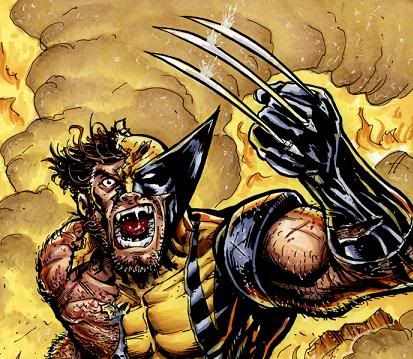 NOTE: This is not an April Fool's joke
There's a lesson in all of this.
After the way Fox yanked a significant amount of funding away from Bryan Singer's first
X-Men
film, due to a lack of faith in the property...
After the way they completely botched
Fantastic Four
...
After the way Fox caused Singer to leave
X-3
despite the fact he built a hugely successful franchise for them...
After they turned Galactus in
FF-2
into a friggin' cloud...
After the way they treated
Wolverine
director Gavin Hood like a dog, repainting his sets behind his back and making his life a general hell...
After the way they legally muscled their way back into the
Watchmen
franchise when it looked as if the film might make a little bit of money...
After they developed a reputation for being the most unfriendly company towards writers and directors...
And after Fox studio head Tom Rothman said of comic book fans: 'Who cares about them? We already got their money!'...
...Someone has uploaded a pristine workprint of
X-Men Origins: Wolverine
onto the Internet.
Rothman might not care about fanboys, but I've got news for him: With few exceptions, pretty much everyone who has opened a comic book knows how to work a computer. Most of these guys are probably finding a way to see this film right now as I type this post. These people are not going to buy a ticket to see this movie.
By Friday,
Wolverine
will be on sale at flea markets and barbershops across the country, essentially being sold to the other half of the audience that would have made
Wolverine
a box-office hit. These people are not going to buy a ticket to see the movie.
As for the rest of the people, the ones who don't shop at flea markets or comic book stores? Well, when they hear about how much the movie sucks - and let's face it, folks, we know that it will - their interest in seeing a film about a guy who has claws that pop out of his hands will greatly diminish. Needless to say, these people are not going to buy a ticket to see the movie.
Is Karma a bitch? Yup.
Can Fox recoup the funds they lost via their upcoming slate of 'quality' titles:
Night at the Museum 2
,
They Came From Upstairs
,
All About Steve
and
Tooth Fairy
? Nope.
Hopefully Rothman and the rest of the stooges at Fox can blow their noses on the money they skimmed from the
Watchmen
grosses.
The bad news for fans is that they can probably kiss any future X-Men, Wolverine, Fantastic Four, or Daredevil movies goodbye. Then again, if they are being made by Fox, that's probably a good thing.