Cameron a 'Man of Extremes'
If you haven't read last week's issue of
New Yorker
, then you should check out Dana Goodyear's
wonderful profile of filmmaker James Cameron
.
You can tell that Goodyear really got to know Cameron during the many years it has taken him to make his newest film,
Avatar
(due December 18). She got a fantastic quote by Cameron as well as clips from Steven Speilberg and George Lucas. And it's clear that while it might not help Cameron as a person very much, one of the things which makes him a great filmmaker is the fact that he doesn't waste a lot of time being nice. He has a habit of being terrible to his crew - who refer to him as "Mij" when he's on an angry kick - and even worse to his producers.
Here's a couple of choice quotes from Cameron during his so-called Mij spells:
"Hiring you is like firing two good men"
-To a crew member.
"Do you want Paul Verhoeven to finish this motherfucker?"
-To Arnold Schwarzenegger, an inch away from the actor's face on the set of
True Lies
.
He is definitely a shouter, but he's also the most skillful director whoever lived on a technical level. The article goes on to portray Cameron's risk addiction. While making these mega-blockbusters like
Terminator 2
and
Titanic
he burns bridges and stokes the ire of critics and detractors, only to save himself at the zero hour by producing films that audiences love.
Will the audiences come through for Cameron again with
Avatar
? Only time will tell, but I think the likelihood of this happening has increased greatly after the release of the new trailer, which is still not available online in a non-bootleg version. Rather than attempt to lure audiences with the facts that the movie is directed by James Cameron and has some revolutionary special effects, we're starting to get a better idea of story elements and who the main characters are.
In other news, don't forget that during November, The Mixed Tape Film Series will be playing two Cameron films at the Carousel Luxury Cinemas in 35mm, both of which were sequels.
First up, at 7:30 & 10 p.m. Thursday, November 5, we'll be playing
Aliens
.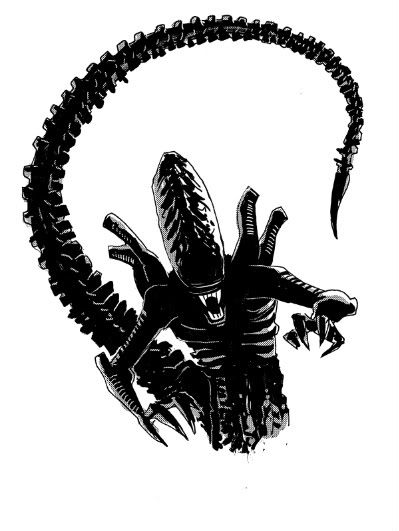 Featuring Sigourney Weaver (who also appears in
Avatar
), here's what co-host Mike has to say about the film:
"In 1986, writer/director James Cameron laid the groundwork for how to properly make a summer blockbuster sequel. Keeping the claustrophobic terror of
Alien
, but abandoning its survival horror minimalism in favor of space marines and waves of xenomorphs, Cameron fused genres to create this action horror classic. As Bill Paxton says in his career defining meltdown, 'It's game over, man.'"
Then at 7:30 & 10 p.m. Thursday, November 12, we'll be playing
Terminator 2: Judgement Day
.
From Mike again:
"Easily one of the best summer blockbuster films ever made,
Terminator
director James Cameron cleaned up the tech-noir sci-fi of his breakthrough film and crafted an epic that owned the summer of 1991 and stands today as an example of what big loud summer movies can do if handled properly."
I can't wait to watch both of these films with an audience, and you can buy your tickets for these films
here
and
here
.
See you at the movies!