A Grindhouse divided....
A few months ago, I had the impulse to check out
Grindhouse
for the third time when it played at the local bargain theatre. I didn't do it, and man do I now want to kick myself.
Word has finally trickled down on Amazon.com that Grindhouse - the spectacular double-feature from Quentin Tarantino and Robert Rodriguez - will officially be both divided and extended on DVD. Here are the covers: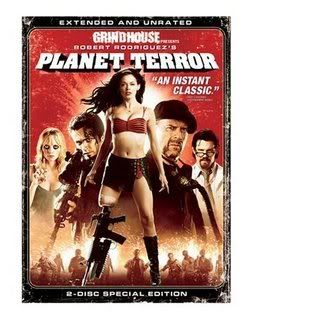 This is a horribly stupid move from The Weinstein Company.
Grindhosue
would have found its audience on DVD, where people who couldn't stomach a three-hour plus movie in theaters could use the pause button for all the smoke breaks and cell phone calls they needed. The smart thing to do would have been to release the theatrical version of
Grindhouse
in the fall only to follow it up with the extended two-disc versions of each film around Christmas time.
With the release of
Death Proof
(on September 18) and
Planet Terror
(on October 16) as seperate movies, what the Weinsteins did was essentially screw themselves out of roughly 1/3 of their home video profits. What's worse is that these upcoming DVD's don't even feature the hilarious fake trailers from Rodriguez, Eli Roth, Rob Zombie, and Edger Wright. What a gip! Also, without having seen these extended versions of the movies, I believe that the 'missing reels,' especially in
Planet Terror
, were part of the reasons both movies were so good. I'm not too sure if I even care what happens between the scenes where Rose McGowan starts to get it on with Freddy Rodriguez and the gas station/barbecue pit starts to burn.
However, this does make me wonder, should both of these DVD's be the huge successes on home video (that I know they will be), could The Weinstein Company be interested in a boxed set that might include both extended films
and
the theatrical version with the beloved trailers at a later? Here's hoping....
Death Proof
-Finding Quentin's Gals
-The Guys of Death Proof
-Kurt Russell as Stuntman Mike
-Introducing Zoe Bell
-Quentin's Greatest Collaborator: Editor Sally Menke*
-Double Dare trailer
-International Poster Gallery
Planet Terror
-Audio Commentary with Writer/Director Robert Rodriguez
-International trailer
-Deleted Scenes
-Cooking School
-10-Minute Film School
-The Stunts
-The Make-up and Effects
-The Badass Babes
-The Renegade Guys
-The Costumes
-The Production Design
(*Actually, I wouldn't mind learning more about editor Sally Menke.)