RE: Children of the Hunt article - The Original Draft
Here
is the
GoTriad!
article I wrote after visiting the production of the local indie film/b-movie thriller
Children of the Hunt
. Changes had to be made, however, as I often have a habit of using the most accurate words to describe the world of filmmaking, rather than the ones which would make the most sense to general readers. That's not to say that the version that was revised by my editor at the
News and Record
is inferior in any way - it's just that it was merely intended for a different audience than the one who might read this website.
As such, I thought I would post my original, non-layman's version of the article here. Enjoy.
(
Red Dawn
and
The Outsiders
' Darren Dalton getting ready to make a 'rousing the troops' speech in
Children of the Hunt
)
While one might assume that production on an action film would be as thrilling and fast-paced as the end result on the big screen, the truth is that this is simply not the case. Scenes must be re-shot again and again from different angles, and various fight moves like lunges, plunges, kicks and throws are filmed one. Piece. At. A. Time.
In the case of a Matthew B. Moore film, however, the local filmmaker comes very close. If Moore's newest project,
Children of the Hunt,
has the budget to include professional Hollywood actors Darren Dalton (
The Outsiders
and
Red Dawn
) and David Stephens (
Punch Drunk Love
) as well as a cast and crew numbering well into the fifties.
But with a two-week schedule, the one thing he can't afford is to waste time.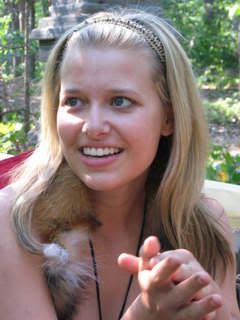 (Actress Crystal Largen)
On the last day of exterior filming, Moore shoots leather-clad actress Chrystal Largen, hoisting an archer's bow into the air as she screams, "We hunt the boar like badasses, holla!" Then less than twenty minutes later, the director rushes to another location in the wooded hills near Sophia, NC, filming a group of actors in purple coveralls (which he later plans to alter via computers effects) as they stalk human prey in the forest.
(Director Matthew B. Moore)
"With an indie, it's always madness, unless you got six weeks to shoot it," says Moore. He adds: "I'm one of those people who cannot stand to wait, because I have a timeline in my head – I know how much time we have, I know how long it takes me to shoot."
Actor Paul Shaw echoes these comments.
Shaw says, "People don't understand – we work 12 hour days, and we would work 14 or sixteen hour days if we had the light, and the crew people go like machines, they just go, go, go, go, go!"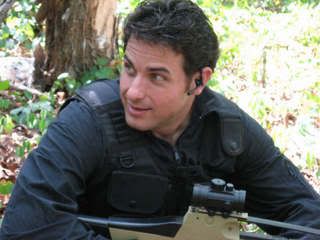 (Actor Paul Shaw)
In the movie, Shaw plays the villainous Travis, head gamekeeper for The Brotherhood of Mars, a sociopathic, Earth-based corporation which allows the wealthy elite to track and kill impoverished Americans forced to live in the woods.
"We got Michael Vick running 54 pit-bulls in his house, we got reality TV trying to look for more and more stuff," says Shaw, "There's not very many steps we have to go to get from where we are now to this."
Beyond the trees at the bottom of the hill, executive producer Adam Ross sits in a lawn chair beside an isolated cabin worthy of Thoreau. This will be the second feature the wiry producer has made on this location. Eating handfuls of miniature chocolate bars, Ross plans how his team will finish this film, as well as their next one, and the one after that.
(Executive Producer Adam Ross)
Ross and company still plan to enter Greensboro's 48-Hour Film Project, despite the fact that it will begin just a few days after filming on
Children of the Hunt
is supposed to end. Afterwards, he wants to shoot an anthology of short horror movies, a la
Tales From the Darkside
– in 3-D no less.
But perhaps more important than either of those plans, Ross says it's imperative to get away from the sun and make his next film indoors on an air-conditioned soundstage. Ross jokes with a crew member, "I've got a lot of requests not to do anymore earthy, woods shoots!"
--
Fortunately, I am not done with
Children of the Hunt
. I had a blast hanging out on the set, and I also got some really good interviews with Dalton and Stevens. Dalton apparently had a good time working with director John Milius on the set of
Red Dawn
, while Stevens'
Punch Drunk Love
experience with PTA was not so good. Here in the next few days, I plan to transcribe those interviews for your reading enjoyment.
Stay tuned.
(**All photo credits Thomas Domer.)