Download Wes Anderson's newest film for free.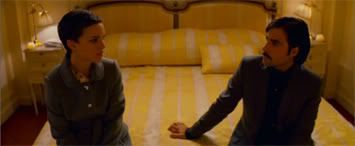 Those scanning this article for a video file containing a crudely-recorded dub of Wes Anderson's
The Darjeeling Limited
should look elsewhere.
Darjeeling
won't even be Anderson's newest film until its release in New York this weekend. Until then, that title belongs to
Hotel Chevalier
, a thirteen minute short Anderson filmed with Jason Schwartzman and Natalie Portman in 2005. The director had hoped to include the short with the theatrical print of the film until Fox Searchlight nixed the plans. But thanks to Apple, you can download
Chevalier
for free via iTunes. How do you find it? All you got to do is click
here
According to several reports, Anderson liked Schwartzman's character so much that he decided to write him into
Darjeeling
's screenplay. Anderson even went so far as to include a cameo for Portman, too. Speaking of Portman, she's great in the short film. With her hair just growing in after the
V for Vendetta
shoot, she's strangely reminiscent of Jean Seberg in Godard's
Breathless
. This is easily the best character of Portman's adult career, with the best overall being the child assassin she played in
The Professional
.
Schwartzman seems to be channeling Max Fischer from
Rushmore
. As much of a sullen and peculiar overachiever as Fischer ever was, Schwartzman's unnamed character even pre-arranges a music cue for his meeting with a spurned lover.
And if you're curious about the song, it's "Where Do You Go to (My Lovely)" by Peter Sarstedt - which you can get in the
The Darjeeling Limited
soundtrack on iTunes as well.