Actor Danny McBride, comic mastermind of the silver screen -- and the IMDB Messageboard?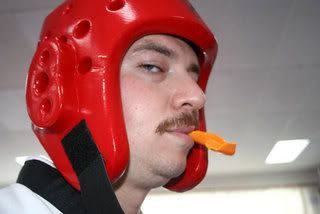 Too few people saw this year's
Hot Rod
, but one of the reasons they should have was to witness the brilliant characterization and comedic delivery of character actor Danny McBride. McBride made his debut as Bust-Ass in David Gordon Green's
All the Real Girls
, co-host Mike Compton's favorite movie of 2003.
Last night, I had a little free time, so I did a some research on McBride. Apparently, McBride has an indie starring vehichle in the can, entitled
The Foot Fist Way
, which he also wrote. The movie came out at Sundance some time ago, made audiences laugh. The movie features McBride as a southern Tae Kwon-Do instructor, who gets in trouble for beating his wife's lover and embarks on a journey to meet his inspiration - a Chuck Norris clone named "Chuck Wallace."
The Foot Fist Way
was picked up by Paramount, where it has languished on the shelf ever since. When I checked the IMDB message boards for more information, and saw the following post from a curious fellow nicknamed "nickel_slots_addict":
I recently saw the "ENGLISH" version and it is very odd. I saw the original "KOREAN" version a few months ago at the Missouri Film Expo and it was a beautiful coming of age tale about a young boy with memory loss and hiccups.
The new version has a lot of fighting and jokes galore. I liked it, but I like the other version better. Much better.
I laughed when I read the words 'a lot of fighting and jokes galore,' and then got to thinking that this might be McBride. After all, there were but a few posts on the film's board, so I clicked nickel_slots_addict's
profile link
, and saw a digital trove of hilarious messages - sometimes for the most random of films.
Here are some of my favorites:
For
Rush Hour 3
(2007)
why I wasn't allowed to see this film
"The man in the ticket window said that because I didn't see "Rush Hour 1" or "Rush Hour 2" I couldn't buy a ticket! I just learned about Jackie Chan and was really excited to see this. I had to see some dumb movie about yellow cartoon characters walking around and making fun of things.

Could somebody please tell me what happened in the previous two "Rush Hours" so I can go back and tell that guy I watched them.
For
Frankenhooker
(1990)
screened this one for my 6th grade class
"and they loved it! Watching it again, I realized the film's underlying moral is a good one - be true to yourself.
For
The Gay Sisters
(1942)
not good for bachelor party
"Bought this sucker from a little naughty shop in an alley somewhere downtown and thought it would be some hot "sister on sister" kind of stuff. I paraded the tape all around a bachelor party I had organized and worked all the guys up in a frenzy.

Needless to say, there is no nudity or squeezing or hot showers or anything. I was kicked out of the party and one guy threw a liquor bottle at me from the window above. It hit me right in the middle of the back and stung. How the hell did he make such a perfect shot and where was the NFL scout when you needed him?
For
The Poor Boob
(1919)
funny thing about the title
"It's the same thing I call a local homeless woman that had one breast removed due to an illness. Is this wrong of me? I gave her a dollar once."
For
Schlitz Playhouse of Stars
(1951)
a show for drunks
"This show was made for and by drunks. The camera work was shoddy at best and the actors would often BURP in the middle of their lines. Very entertaining though."
For
Mask
(1985)
not good for children
"My 4 year old son loves to watch movies as he drifts off to sleep every night. Last night I told him he would get a kick out of this one. I thought it was the other "Mask" with Jim Carey and Cameron Diaz. Oooops. Needless to say he is very upset with me and had horrible nightmares about "the big head monster man". What do I do? "
For
The Doors
(1991)
Re: Is this how Jim Morrison was?
"
A close friend of mine was a roadie for the Doors on their first major U.S. tour. He has tons of great "Jim stories" including -

1. He loved knock-knock jokes.
2. Nobody ever saw him buy socks.
3. Because of a childhood sledding accident, he really disliked snow.
4. He could blow huge bubbles with bubblegum.
5. The band never let him play his trombone on stage.
6. His laughter was real high pitched and girly."
-And lasty-
For
Powder
(1995)
the real powder was a drunk
"I met the real Powder several years ago at a county fair in Fairfax, Virginia. He was a stumbling, smelly drunk that didn't resemble the movie version of his character at all. I was disgusted by what he did with an oversized stuffed gorilla."
__
I seriously laughed until there were tears in my eyes. Best part is, there's a ton of them I haven't read yet. As for the identity of "nickel_slots_addict," the reason I suspected he or she might be McBride is because of the southern region of the country where most of the posts take place, as well as his sense of humor. McBride came up with most of his lines for
All the Real Girls
and I I could easily imagine Bust-Ass saying any of the lines written above. As I continued digging, I found the biggest peice of evidence on the very first post "nickel_slots_addict" ever made. On Friday, Dec. 30, 2005, he left this message on
Danny McBride's IMDB profile
:
Re: Truely Great Comic Actor !
I was lucky to attend one of Mr. McBride's "solo" shows in Denver, this past Thanksgiving weekend at the West Regency Villa resort in Haspa Springs. I attended the show with my girlfriend and, at Mr. Bride's hiarious urging, I dropped to one knee and proposed. The entire audience (40-50) erupted in applause and laughter.

The show consisted of two acts. The first, entitled "Hollywood Memories", showcased Mr. McBride's skill at impersonation. A skit featuring Clark Gable, W.C. Fields, Humphrey Bogart, and Darth Vader waiting for a bus brought many in the audience to tears. There was also a talented pianist who assisted in the musical numbers. A "Way Down South" medley of tunes written by Stephen Foster Davis was patriotic, yet sarcastic.

After an unusually short intermission, Mr. Bride engaged the audience in a question and answer session. It was at that point in the show that Mr. McBride mentioned his part in "All the Real Girls". He fondly recalled the movie shoot as a good time. The night ended with a monologue about the one man show he was currently performing. When it seemed like the right time to end everything, Mr. McBride bowed and waved.

If you ever get advance notice of Danny McBride being in your town for a show or a function, I encourage you to go. He is truly a funny man."
--
Even if the post above was a complete fabrication, I would have to agree.
P.S. Enjoy the following short films entitled,
The Sweaty Salesman
- starring none other than Danny McBride!