Indiana Jones will ride again in Summer of '07
We've been waiting for a fourth Indiana Jones film since the late nineties, and everytime an interviewer asks a principal (i.e. Harrison, George, or Steven), they always say they are going to shoot it 'next', or 'soon', or 'next year'. George Lucas has used the term 'next year' for this project so many times that the phrase literally has no meaning whatsoever when it comes out of his mouth.
So if
The Hollywood Repoter
's article is to be believed, they are going to move ahead on production this summer with a screenplay by War of the Worlds writer David Koepp. Koepp's not a terrible writer - I love
Stir of Echoes
- but I have to say that I am pretty much indifferent to most of his work on adapted properties (
Jurassic Park
,
War of the Worlds
, and the first
Spiderman
to name a few).
I guess all I can really say at the moment is I will believe it when they shoot it - when they have the director, producer, and star in the same place at the same time shooting this geriatric adventure that many people have been dying to see.
Update!!
A spy by the name of 'Hamburglar69' sent us this still image from Indy IV screen tests that they've done with Harrison Ford. Enjoy!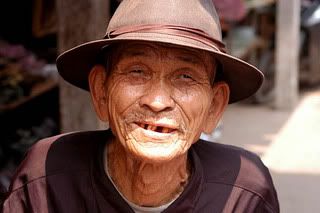 ('How am I supposed to find these gol'-durn artifacts, when all I really need is a fiber pill and some depends?')