CAST THIS!: The Upcoming James Brown Bio-pic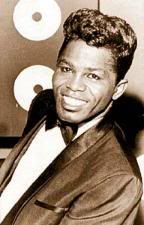 1933-2006
Hollywood didn't even wait for James Brown to be buried before announcing a film based on his life. So far, we have the studio, Universal, the producer, Brian Gray, and the director, Spike Lee - now all we need is a star in a role that several actors will be gunning for because because of its awards potential.
I will give you a list of obvious choices, explain why they wouldn't work, and then perhaps shock you with the actor I believe should play James Brown:
Exhibit A:
Jamie Foxx - No doubt about it, the dude is a serious presence. He even won an Oscar for playing Ray Charles, but that's the very reason I wouldn't cast him. It's too obvious, and for Foxx it could damage his career. He already fought a long hard battle to prove he wasn't just the guy who starred in crappy black comedies. It would be even difficult to prove he was more than just the guy who starred in bio pics on black musicians.
Exhibit B:
Denzel Washington - He's worked with Spike Lee more than any other actor, and he's great. I even thought he would have made a perfect Mr. Fantastic last week, but I don't think he could play 'The Hardest Working Man in Show Business'. His range goes from quiet and gentle to controlled and intense. I am not sure he is capable of reaching the bat-crap insanity that one would need to own the role. Perhaps he could pull it off, but it would ultimately be a wild card.
Exhibit C: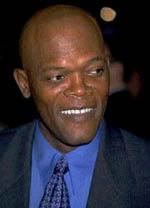 Samuel L. Jackson - If they were making a bio-pic on the later half of Brown's life - which they shouldn't - Jackson would be a perfect choice. However, he's just a little too old. Too bad they didn't try to make this film during the 90's....
Exhibit D: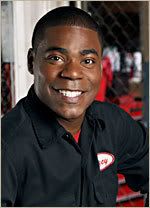 Tracy Morgan - Now get this, I actually changed my mind while writing this article; Initially, he was going to be the 'shocking choice' I had mentioned at the begining of this post, until I realized there was someone who could play the role better. That said, if my first choice was unavailable, Morgan could make for a great James Brown. He has the same history as Jamie Foxx - both actors got their break doing sketch humor (
SNL
for Morgan,
In Living Color
for Foxx), and both did extensive work in terrible black comedies. However, Morgan has yet to take on that one transitional role into dramatic territory (Foxx had been in
Any Given Sunday
and
Ali
before he starred in
Ray
). Plus, I want to save him for my planned low-budget bio-pic based on outsider musician Wesley Willis entitled
Where There's a Willis, There's a Way
.
So who do I think could play James Brown?
Mos Def - The dude can act, the dude can sing, and he's even allowed himself to go bat-crap insane on several episodes of Chappelle's Show. While Jamie Foxx was unable to sing all of his parts in
Ray
, Def could take this role, own it, and then promote it by going on a little tour as a James Brown cover act. He doesn't look completely like James Brown, but I think he could play him so well we would forget that after the first 10 minutes of the film. He's even worked with Spike Lee before in
Bamboozled
. I think he is the perfect choice.