Recovering from the zombie show....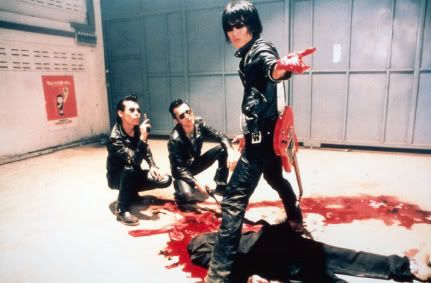 I want to shout a quick thanks to everyone who came out to the
Wild Zero
show tonight. I was totally expecting maybe 20 people to show up, and there was more than double that number. Better yet, most folks who attended the show liked it. A lot. While the movie wasn't exactly scary, they laughed when they should have, and seemed to genuinely enjoy themselves.
As for the non-
Wild Zero
events, everyone seemed to dig the cheesey trailers and the Fright Flicks trading cards we
were giving away to our trivia winners. Jack Bonney, GM for WUAG was the biggest winner of all; his pack came with a sticker featuring Slimer from
Ghostbusters
. I told Jack if I had to pick 20 things I would want on a sticker, one of them would have to be Slimer. Anyway, he plans on putting Slimer on the door of his brand-new office when the station moves to the new building in November. Hopefully no one will steal it....
The kind, beautiful attendant who works for 2 Art Chicks was also impressed with the number of beer drinkers we had in the crowd. Maybe it had someting to do with the
Wild Zero
drinking game we were playing, but it looks like the "Beer and a Movie" film series will live on. Much like the band Guitar Wolf, and most importantly -
ROCK AND ROLL!
Again, thanks to everyone who helped us have a great time without worrying over scene points. Stay tuned for further events!