Potent like a mason jar full of tears (Thursday's Show).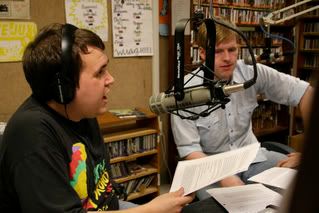 On this week's episode of "The Movie Show," Joe gets an idea for a supposedly great bio-pic, while Mike ticks off fans of both Jazz and Mr. Rogers. The boys also manage to compete for a mason jar filled with the tears courtesy of the scene-kids from Tate Street.
On the news side, the boys discuss WGA strike, the dangers of working with David O. Russell, and the lunacy of Sylvester Stallone's upcoming "Death Wish" remake. Plus Joe reviews "American Gangster," and Mike chimes in on "Lars and the Real Girl" and "Wristcutters: A Love Story."
Soundtrack Selections include:
"Let It Be" (Beatles cover) by Nick Cave from "I Am Sam";
"A Song for You" by Gram Parsons from "Wristcutters: A Love Story";
-and-
"The Crying Game" by The Culture Club from "The Crying Game."
Click here!