So, American Gangster is NOT from Greensboro?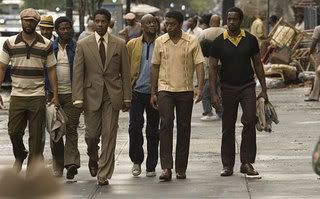 During a scene in Ridley Scott's
American Gangster
, we find out that drug lord Frank Lucas and his brothers (Denzel Washington, et al. pictured above) were from Greensboro, NC. Well, according to Friday's edition of
The News and Record
, this is not the case:
The movie apparently got Frank Lucas's hometown wrong. He's from LaGrange, N.C., near GOLDSboro. Same state, different color. Thanks to JR and Susan Ladd for pointing that out.
--
When I saw the words, "Greensboro, N.C." at the bottom of the screen during our town's cameo appearance in the movie, I couldn't help but shout, "WOOO!" Now I have found out that all of that excitement has been for nothing. However, when the cameo appearance did take place, one thing I noticed was that the location they used in the film looked rather swamp-like. Kinda like the boggy parts of our state near Goldsboro.
Guess I just thought Ridley Scott & co. believed all of the American south looked like that. Hmmmm, go figure.