Buy today's News and Record. NOW!
Ran to the closest newspaper machine this morning, something I always do whenever I have a story in
GoTriad
. Only when I made it to the machine today, I looked at the top of the front page and saw this: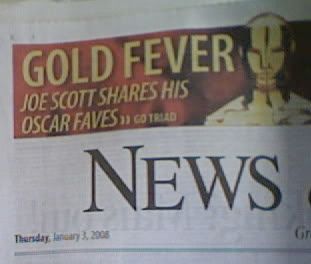 I'm sure when a lot of people looked at today's front page this morning they said, 'Who the heck is Joe Scott!?!'
Anyway, so yeah. My Oscar picks are in today's issue of
GoTriad
. The article mentions the obvious choices for film, actor, actresses, director, and supporting, but then I also focus on dark horse picks as well.
I'll let you know whenever it becomes available online. There were a lot of pictures in the article, so we'll have to wait a little while before it goes up.