"Troll 2" - The Aftermath
Most people who attended last night's screening of
Troll 2
as part of "Midnight Madness: Beer and a Bad Movie" are probably still asleep, but I thought it would be nice to share a couple of pics that Niblog resident Tammy Weeks Dills took of the event, plus my take as to how it all went down.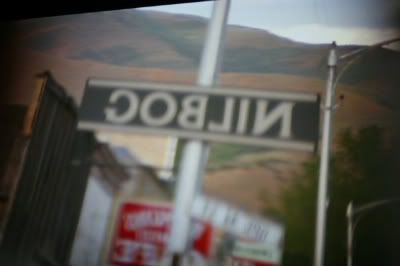 Our story begins in Nilbog, Utah, population 26 including the Presents family.
Actually, our story really begins at the Carousel Luxury Cinemas, where the number of actual Nilbogians was closer to seven. Tammy and Janet above (L to R).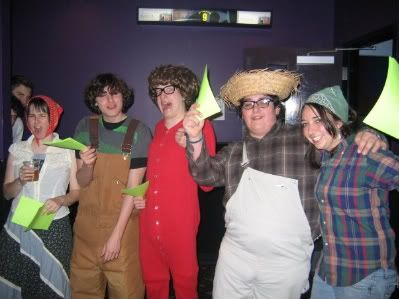 As well as Kat, Ben, Sam, Nathan, and Megan. Considering the enthusiasm these guys had for their beloved historical epic, it was probably best that the remaining 19 Nilbogians stayed at home. By this point, we had already sold out one auditorium, and were well on our way to selling out the second one.
The Nilbogians were more than glad to share Sheriff Gene Freak's "laws" for the screening with everyone who attended via their handy green pamphlets. What friendly people those Nilbogians were.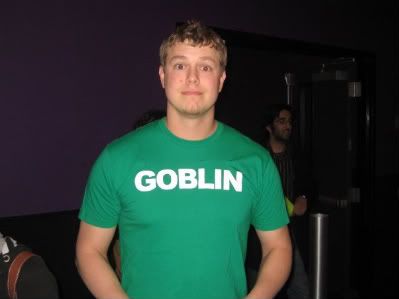 This guy showed up in an authentic Troll 2 t-shirt (which can be purchased
here
). This screening was probably the one and only context a shirt like that could get him laid.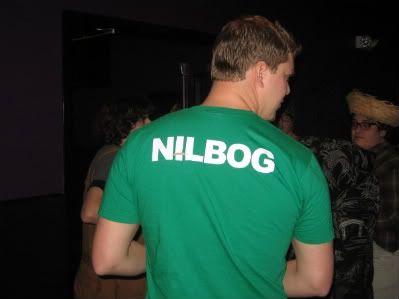 See what I mean?
Here's a pic of me introducing the film. That black stuff on my head is the residue from my
Watchmen
joke that I made for the audience in the other auditorium moments earlier.
Since the event was sponsored by the folks at Natty Greene's, we thought it would be a good idea to use their wares to host a drink-off between two attendees - both of whom had verified designated drivers - for the coveted prize of a
Lawnmower Man 2
poster. The guy on the right took his down slow but steady, and won the race. The guy on the left tried to go it fast and choked, costing him both time and the poster. After losing, he asked me, 'Do I get a consolation prize?' My answer: "Yeah, you get to drink a free beer without waiting in line."
Speaking of which, before the show, we had a killer beer line...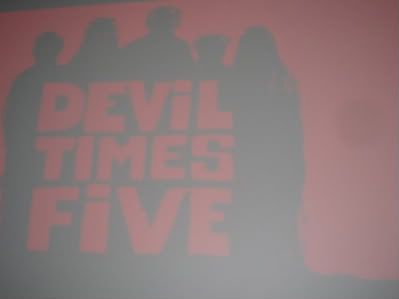 ...killer kids...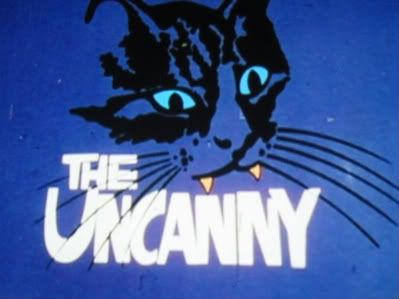 ...killer cats, fish, and dogs, too.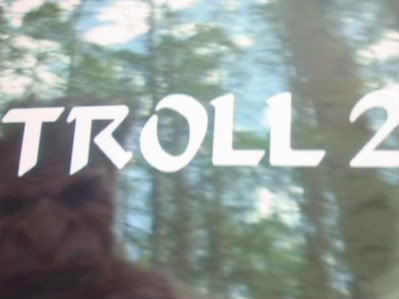 Then the movie began.
The audience loved this guy.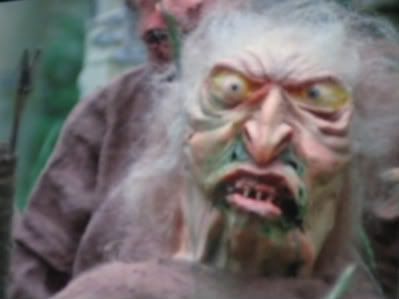 This guy, too.
Yes, there was a CORN-GASM!
Then it all concluded with the most epic finale in movie history.
'No, not the bologna sandwich!'
'Yes, the bologna sandwich.'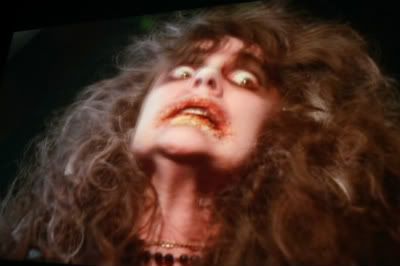 'NOOO!'
'YESSSSS!'
'OH NOOOOO! I'M MELTING, AND MY EYES LOOK ALL GOOGLY!'
Thanks to Rob, Tony and the gang at the Carousel for hooking this up for us, plus all who attended. Hopefully I will see you all at next Friday's screening of
The Room
.
P.S. This is the remainder of the Nilbog cookies we gave away during the middle of the film:
Spring Garden Bakery & Coffee House custom made these for us with a maximum amount of green and a hint of lime. Or was it food coloring?