The Joker strikes Raleigh?!?!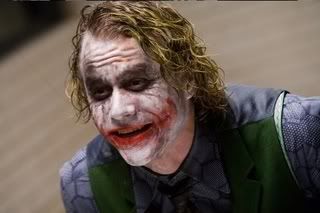 Alert Governor Easley! Flash the Bat-signal!
Looks like our state's capital could be under attack by the clown prince of crime himself. That's right, The Joker.
Over at
whysoserious.com
, viral-marketing campaign headquarters for Chris Nolan's newest Batman film,
The Dark Knight
, one can find a scattered pile of clues. These clues contain directions for residents of various major cities. Will those who follow the clues find a new picture from the movie, a DVD copy of the trailer, an invite to a test screening - or a face full of deadly Joker gas? The answer remains to be seen.
I had my fingers crossed, hoping North Carolina would be spared of the Joker's villainy. Certainly a smaller metro area like Greensboro would be spared, but then I remembered (last time I checked) that Raleigh is the 26th largest film market in the country. Things didn't look too good after that.
And sure enough, The Joker left the following clues: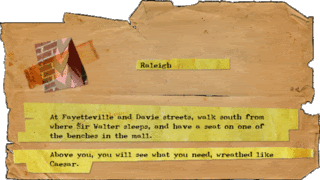 ("At Fayetteville and Davie streets, walk south from where Sir Walter sleeps, and have a seat on one of the benches in the mall.
"Above you, you will see what you need, wreathed like Caesar.")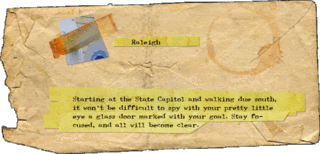 ("Starting at the State Capitol and walking due south, it won't be difficult to spy with your pretty little eye a glass door marked with your goal. Stay focused, and all will become clear.")
My wife would kill me if I drove all the way to Raleigh. But if any of you Triangle (or Triad) residents out there find whatever these clues are leading you to, and live to tell the tale, send me a digital picture (or pictures) of whatever it is you are supposed to be looking for. My e-mail is movieshowjoe@gmail.com. The first one to send me a picture shall be rewarded - handsomely.