Fox to throw Dragonball in '08. (+BONUS!)
Variety
reports
that 20th Century Fox has given the greenlight to a live-action film adaptation for the popular anime series
DragonBall Z
. The series was basically a non-stop fight sequence between humanoid werewolf aliens, green guys, and other random characters. Judging by that description, you might be able to guess I wasn't a fan of the show; however, what intrigues me about this project is that Stephen Chow, star and director of
Kung Fu Hustle
and
Shaolin Soccer
, will produce the film. That's certainly a tip in the right direction.
The movie will be directed by James "
Final Destination
" Wong, with Justin "How did his character in
War of the Worlds
survive?" Chatwin set to play the heroic warrior Goku. Whedon-ites should also be glad to know that the movie's villain, Piccolo, will be portrayed by
Buffy
's James Marsters.
BONUS: 'CAST THIS!'
Here's a picture of Goku
And here's a picture of Justin Chatwin: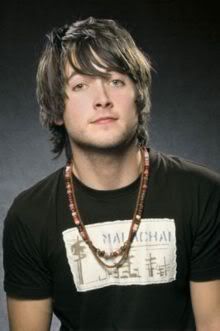 Chatwin certainly has the hair needed for the role. He also has those anime eyes. Kinda. I always thought the show was a perpetual stream of east-imported garbage, so I can't comment on what the role would require on an internal level (if one exists), but he does look the part.
For the sake of the series' rabid fans, Chatwin might want to work on them biceps, though.
Here's an image of Piccolo:
Here's an image of James Marsters:
We all know Marsters can play the hell out of a villain. I just hope he likes green face paint.