Seth Rogen, Elizabth Banks make Kevin Smith's Porno!
From Anthony Breznican of
USAToday
:
It's a comedy threesome.

Seth Rogen of Knocked Up, Elizabeth Banks of The 40-Year-Old Virgin and Clerks filmmaker Kevin Smith have joined forces for a comedy about two friends who decide to cure their financial ills by making an X-rated video.

Zack & Miri Make a Porno begins shooting in January in Pittsburgh. "It sounds deceptively straightforward with the title, but it's a little more complicated than that," says Smith, who acknowledges the topic is an eyebrow-raiser.

The writer/director is famous for pushing the limits of taste in comedies that also are tempered with touching moments, such as Chasing Amy, Dogma and Clerks II. In Zack & Miri, however, the touching moments may also be moments of touching.

"Everything I've done, on the surface, seems off-putting to some audience or other, but if you sit down and watch the flicks, you'll see they're sweet-natured and not angry or hateful or provocative for the sake of being provocative," Smith says.

The story is about two platonic friends who discover feelings for each other while trying to earn some cash. The awkwardness of the circumstance and the characters' unsexiness fuel the jokes.

"It's very much a love story," Smith says. "Zack and Miri just want to make a good old-fashioned dirty movie."
--
Kevin Smith has been hinting
on his blog
for weeks about how awesome his 'Zack' was, and in terms of comedies, it looks like he has netted one of the hottest stars working today. Kudos for keeping a secret, Kev. I am also glad he didn't dip into the cast of his various 'Askew-niverse' films. The man's gotten too comfortable career-wise, and it looks like he's working hard to fix that.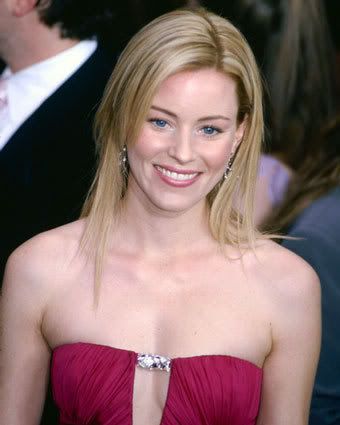 In case you are wondering who Elizabeth Banks is, she had a small part in
The 40-Year-Old Virgin
and an even smaller skirt in
Fred Clause
, which was set in the North Pole of all places. If she ever had a shot to reveal her talents to the world,
Zack and Miri Make a Porno
would be it.
But back to Smith, this could be his lucky break. Everybody knows this man has been hounding after that $100 million box-office gross since the star-studded
Dogma
made just over $30 million. If he can't make at least $100 million with Seth Rogen, whose last film topped $200 million, then the Catholice League must be up to something.
BONUS
: Since we just mentioned the Catholic League, here's a YouTube video of a man who looks an awful lot like Kevin Smith joining the most militant members of that group in a protest against
Dogma
: