Smokin' still bad for you, says Joe Scott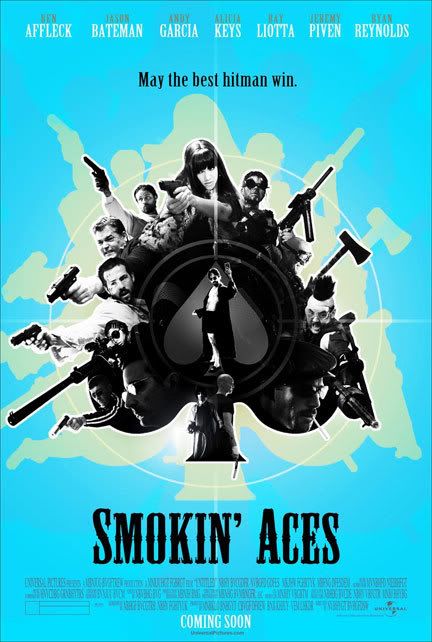 First, let me just come out with it and say that I hated this film. I know I was pumped as hell to see it sometime around New Year's. I watched the teaser and the trailer, and I remember thinking, 'This kinda looks like it might have almost zero cohesion, but a talented young director like Joe Carnahan would never let that happen. Certainly
he
will somehow manage to reign it all in with a decent narritive flow.'
Well, he didn't.
From what I could gather,
Smokin' Aces
is little more than a game of bumper cars wherin the cars are replaced with depraved murderers, two FBI agents, and Andy Garcia with the worst Southern accent I have ever heard. The psychos and agents bump into one another, shoot one another, and, for the most part, kill one another. Then, at the very end, they throw us a total screwball of a twist-ending, as if this film even deserved to have one in the first place. Let me tell you the kinds of films that deserve twist endings, ones with straight beginings and middles. By the time we get to the film's finale, it's not so much a twist as it is another boring turn on this jumbled Rubix cube of a story.
As far as acting goes in this film, there were a few people who took their parts and conducted themselves nicely. Ryan Reynolds proves that he deserves more work for having the courage to appear in a film like this and not be terrible. Ray Liota, the fine actor that he is, simply needs more work. Perhaps someone will develop a worthy TV show around him so he can keep from having to do crap like this. Maury Sterling was great as this southern fried rockabilly nightmare; and Alicia Keys and Taraji Henson might have been the most likable people in the film, playing a pair of assasins whose partnership might run deeper than professional for one of them.
But back to Andy Garcia's accent. Dude changes gears somewhere during the film, going from his usual quiet voice to a tidewater southern lawyer. Wasn't there enough money in the budget for all this meyhem to hire a dialect coach? Garcia desperately needed to be told that he sounded like Looney Tunes' Foghorn Leghorn. Absolutely pitiful.
(Someone at Warner Brothers needs to get cracking on Andy Garcia's next film.)
Ultimately, I will look back at the whole affair (if I do look back at it whatsoever), and say that some movies were never meant to be more than just a trailer. two-minute glimpses into what could have been. Maybe the studio should have just cut their losses and included the preview as a part of the
Grindhouse
project that Quentin Tarrantino and Robert Rodriguez have been working on.