Greensboro to 'Rock n' Bowl' with 'The Big Lebowski'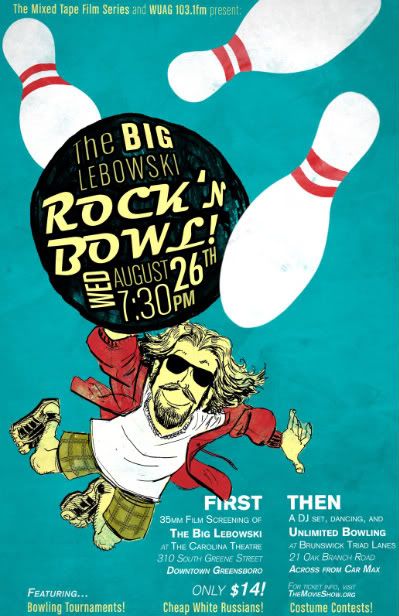 GREESBORO, NC
– Get ready to laugh, bowl and rock n' roll with "The Big Lebowski."
On Wednesday, August 26th, the Mixed Tape Film Series and WUAG 103.1 FM will present the Big Lebowski Rock n' Bowl, a city-spanning event that will be a celebration of bowling, White Russians and one of the most beloved comedies of all time.
The Big Lebowski Rock n' Bowl kicks off at 7:30 p.m. with a 35mm screening of the Coen Brothers' cult-classic "The Big Lebowski" at the Carolina Theatre on 310 South Greene Street. Immediately after the film, Lebowski fans can knock some pins and make some friends at the Brunswick Triad Lanes on 21 Oak Branch Road, where there will be unlimited bowling and a dance party featuring records spun by WUAG's greatest DJ's.
Released in 1998, "The Big Lebowski" follows the life of Jeff "The Dude" Lebowski, a man of simple pleasures and questionable means who finds himself in a world beyond his comprehension after an unfortunate case of mistaken identity. Jeff Bridges shines in the lead role, reacting to brilliant supporting turns by John Goodman, Julianne Moore, Steve Buscemi and a very young Philip Seymour Hoffman.
Film critics and audiences originally shunned the film upon its release, however, due to a series of midnight screenings across the country as well as DVD sales, the film has become the greatest cult success of the last decade. Rolling Stone even went so far as to call the film "the most worshipped comedy of its generation."
Other events in the Big Lebowski Rock n' Bowl include a costume contest for people who dress like one of the characters from the film and bowling tournaments.
Brunswick Triad Lanes will serve patrons discounted White Russians until they close at 1 a.m.
Tickets for the movie and all-you-can-bowl event are $14 and are available at any Mixed Tape Film Series event or online at www.wuag.net.
For more information, e-mail movieshowjoe@gmail.com or call (336) 662-5691.
###